November 2, 2021
– By Tom Schaffner
For more stories about Chicago's fascinating history, take a look at what Chicago city tours we are currently running! L Stop Tours runs unique tours all across Chicago's neighborhoods that are guided by lifelong Chicago residents. Discover the amazing architecture, tasty food, and interesting tidbits about the city in one of our Chicago walking tours!
Andersonville is accessible via the Red Line Berwyn L Stop.
A Swedish Community
From the early 1800s until 1960, Swedes ranked as Chicago's fifth-largest foreign-born group, behind Poles, Germans, Russians and Italians.  For the most part, Swedes congregated in neighborhoods on the Near North Side of the city, especially in areas such as Lincoln Park and Lakeview.  After the Great Chicago Fire of 1871, large numbers of Swedes moved farther north in order to escape the city's new, strict building code which prohibited the use of wood in residential construction (and therefore made house construction more expensive).
One of the areas settled by Swedes was a bucolic subdivision about 6 miles north of the Loop (present-day intersection of Clark Street and Foster Ave.) called Andersonville.  The residential development was named, ironically, after a Norwegian community leader, Reverend Paul Andersen, whose name was often misspelled with an "e" instead of an "o."  It grew to become a thriving community of Swedes until the Great Depression when many decided to relocate to the nearby Chicago suburbs.
Today's Andersonville
Not all Swedes left the neighborhood, however.  In 1964, Andersonville was rededicated as a community by Mayor Richard J. Daley and Illinois Governor Otto Kerner, and to celebrate the occasion the Andersonville Chamber of Commerce reinstituted the Swedish tradition of celebrating the summer solstice by hosting Midsommarfest, one of the neighborhood's largest and most popular outdoor festivals.  To honor the contributions of early Swedish immigrants to the area, local residents opened a Swedish American Museum with a gala ceremony that was attended by King Carl XVI Gustav of Sweden.
Today, Andersonville is a diverse and vibrant community comprised of third- and fourth-generation Swedes, Mexicans, Koreans and Lebanese.  Andersonville also is home to a thriving LBGTQ population as well as a pastiche of independent, locally-owned businesses that give the area a strong sense of both family and community.
We've put together a self-guided tour of Andersonville that helps you discover some of the area's points of interest:
Swedish American Museum
, 5211 N. Clark St.
Founded in 1976, the Swedish American Museum is a repository of Swedish art, history and culture.  The Museum's main exhibit, "The Dream of America: Swedish Immigration to Chicago," displays hundreds of artifacts, pictures and descriptions of the mass immigration of Swedes to Chicago beginning in the late 1800s.  Visitors learn about the struggle these immigrants faced and how they forged new lives in their new land.  The first floor of the museum is filled with artifacts created by contemporary Swedish and Swedish-American artists and craftsmen.  For anyone visiting Andersonville, the Swedish American Museum is the ideal first stop on a self-guided tour.
Swedish Flag Water Tower
, 5211 N. Cark St.
Atop the Swedish American Museum is an iconic Chicago water tower that is painted to resemble the flag of Sweden — blue background with a bright yellow cross that is centered on the front facade.  Constructed in 1927, the water tower has looked down over Andersonville for nearly a century.  Damaged by snow and ice in 2014, the water tower was refurbished, rebuilt and remounted atop the Museum.  Though it no longer functions as a water tower, it has regained its former role as one of the most noticeable attractions of Andersonville.
Lost Larson
, 5318 N. Clark St.
When the Swedish Bakery, an Andersonville landmark, closed after more than 80 years in business on North Clark St., locals wondered where they might find their next lingonberry almond cake.  They didn't have to worry for long — enter Lost Larson, a bakery and cafe that more than fills the void left by the Swedish Bakery.  Chef and owner Bobby Schaefer masterminds the treats, which range from cardamom-scented chocolate croissants to calamansi meringue tarts.  Savory, open-face sandwiches topped with fresh produce and quality meats are also available.
Simon's Tavern
, 5210 N. Clark St.
Open since Prohibition ended (1934), Simon's Tavern has built its reputation by serving glogg, a traditional Scandinavian mulled wine during the winter and a "slushy" version of it during the summer months.  The interior of the bar is worth noting.  There's a neon fish drinking a martini, Viking paraphernalia, ancient Schlitz advertising and Swedish artifacts and treasures from the surrounding neighborhood.  
Women and Children First Bookstore
, 5233 N. Clark St.
Women and Children First is one of the nation's largest feminist bookstores stocking more than 20,000 books by and about women, children's books, and a wide-ranging collection of LGBTQ literature.  First opened in 1979, the store strives to offer an environment where "everyone can find books reflecting their lives and interests in an atmosphere in which they are respected and valued."
Ebenezer Lutheran Church
, 1650 W. Foster
This beautiful church was constructed in 1902 by a rapidly-growing congregation of Swedes who lived in and around the Andersonville neighborhood.  The altar, considered by Chicago artists and architects to be one of the most perfectly balanced works of its kind, includes two magnificent carved stone doorways and art glass windows that feature scenes from the life of Christ.
Rosehill Cemetery
, 5800 N. Ravenswood Ave.
Located on a beautiful 350-acre North Side site, Rosehill is the largest cemetery in the City of Chicago.  The front gate to the cemetery was designed by William W. Boyington, the architect of the old Chicago Water Tower, and was listed on the U.S. National Register of Historic Places in 1975.  Rosehill is the final resting spot for a number of well-known Chicagoans, including broadcaster Jack Brickhouse, advertising executive Leo Burnett, meat industry executive Oscar Mayer and retailer Aaron Montgomery Ward.
Chicago Greystones
, 1400-1500 W. Berwyn
Greystones are residential units constructed out of limestone from South Central Indiana that gives the home a distinctive grey, castle-like feel.  They are relatively common in Chicago (more than 30,000 of them) but are scarce in other parts of the country.  Most of the housing units are built either as single-family townhomes, a two-flat or a three-flat.  In Chicago, the first greystones were built in the 1880s (a decade after the Chicago Fire) because the city's new fire code banned wood construction — making them an ideal housing unit for the city.  Andersonville is home to many Chicago greystones which can be seen on a number of residential streets throughout the neighborhood, including west Berwyn St.
Hopleaf
, 5841 N. Clark Street
Opened in 1992, Hopleaf is a relaxed, no-nonsense tavern offering 68 types of craft beer, fine wines, spirits and cocktails, cider and meads.  About 15 years ago, Hopleaf began to offer thoughtfully sourced, in-house prepped, chef-inspired dining and effectively turned itself into one of the nation's first gastropubs.  It wasn't long before it earned a listing in the Michelin Guide.  Hopleaf's website describes the atmosphere of the gastropub:  "Lacking screened distractions, games or live entertainment, Hopleaf is for drinking, eating and talking with friends, new and old."
Edgewater Historical Society
, 5358 N. Ashland Ave.
Edgewater is a large community on the north side of Chicago that encompasses Andersonville and two other neighborhoods — Lakewood Balmoral and Bryn Mawr.  Located in a renovated firehouse in Andersonville, the Edgewater Historical Society is a museum that collects and preserves the history of local residents, businesses and local organizations.  It contains a wide range of live and virtual exhibits, including retrospectives on the gone-but-not-forgotten Edgewater Beach Hotel, Sheridan Road, and the fluctuating water level of Lake Michigan (and its impact on Chicago's shoreline).
Chicago Magic Lounge
, 5050 N. Clark St.
Opened in 2015 in Andersonville as an homage to the close-up magic bars and restaurants of the 1930s and 40s, this retro-styled venue features strolling magicians who perform close-up card tricks and other illusions tableside for customers.  The Magic Lounge also has several small theaters that showcase touring magicians and related mystical entertainment.
Andersonville Galleria,
5247 N. Clark St.
The Andersonville Galleria is a retail market building that features over 100 vendors offering apparel, jewelry, artwork, home furnishings, giftware, accessories, antiques, fair trade and gourmet treats.  It's like a combination indoor art festival and outdoor flea market.
Philadelphia Church
, 5437 N. Clark St.
Built in 1921 as the Capital Savings Bank, the financial institution didn't survive the Great Depression.  In 1939, the building was purchased by the Swede-influenced Philadelphia Church whose mission was and still is "to bring people to Jesus Christ and to fellowship in the church body."  A huge, 1940-ish neon sign over the front door that reads "Jesus Saves" steals the show.  When lit, it is one of the most picture-worthy shots in all of Chicago.
Holder of two journalism degrees, including a masters from Northwestern University, Tom Schaffner is a native of the Chicago area and has spent nearly 50 years as a writer, editor, publisher and professional communications consultant. He was also the founder, editor, and publisher of the Chicago File, a newsletter for former Chicagoans. Tom is also the co-owner of L Stop Tours.
---
POPULAR TRIPS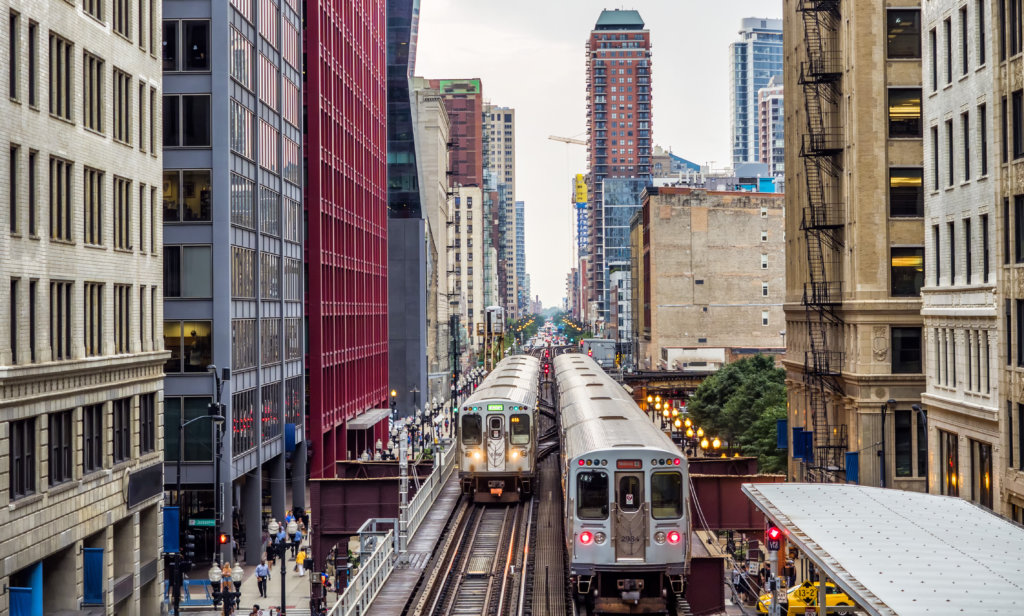 Duration: 3.5 hours
Price: Adult $60
Tour price includes transit fees - food/beverages purchased by guests
Tour begins and ends in the Loop
Walking distance: 1.5 miles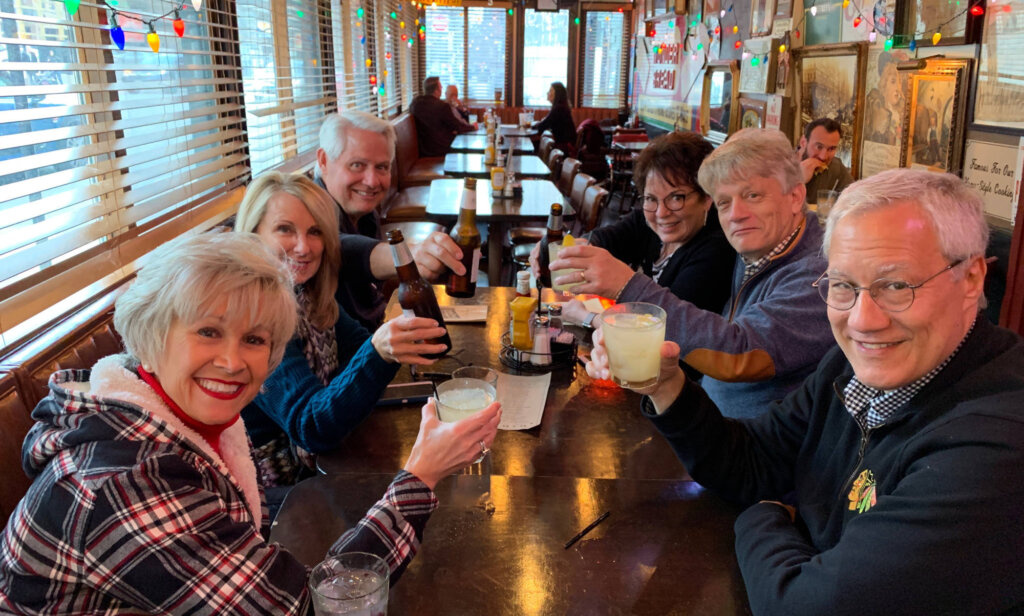 Duration: 3.5 hours
Price: Adult $60
Price includes transit fees – food/beverages purchased by guests
Tour begins and ends in the Loop
Walking distance: 1.1 miles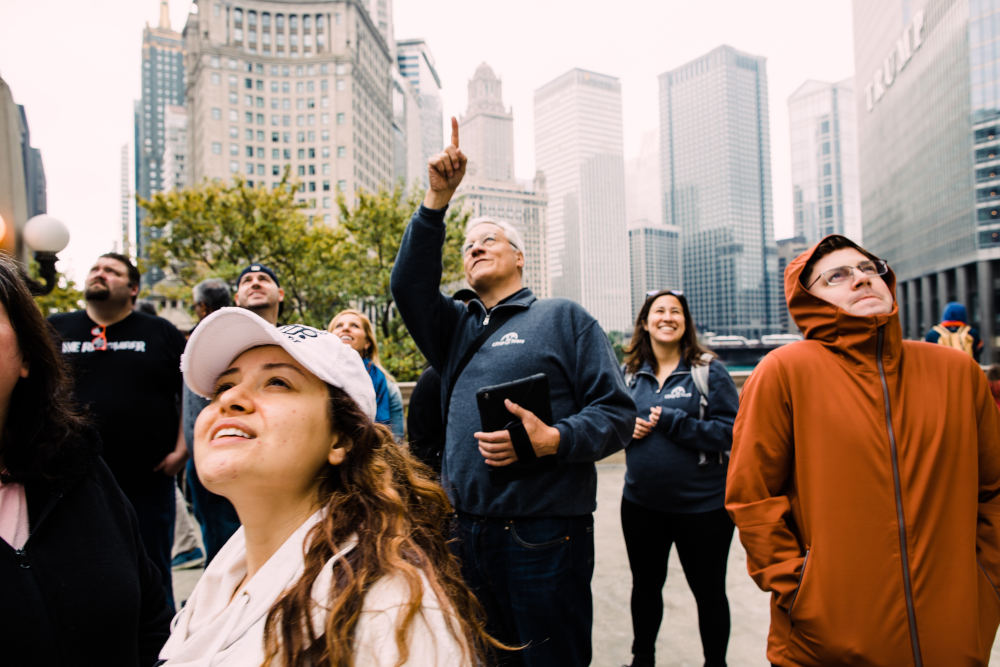 Duration: 2.5 hours
Price: Adult $60
Tour price includes professional tour guide, train ride - food/beverages purchased by guests
Tour begins and ends in the Loop
Walking distance: 1.5 miles
NEWSLETTER
Stay in the LOOP and subscribe to our monthly newsletter today!