– By Tom Schaffner
For more stories about Chicago's fascinating history, take a look at what Chicago city tours we are currently running! L Stop Tours runs unique tours all across Chicago's neighborhoods that are guided by lifelong Chicago residents. Discover the amazing architecture, tasty food, and interesting tidbits about the city in one of our Chicago walking tours!
Before Amazon, before smart phones and before the internet, Chicago residents shopped at Loop department stores — retail emporiums that offered a wide range of products and services to customers and patrons. Urban department stores at the time were cavernous, trendy, fashionable, service-oriented and, most of all, convenient. Everything you could ever want or need was contained within a massive, multi-story building that sprawled like a behemoth over a large city lot in the central business district.
Department stores, however, weren't always kings of the retail hill. Before department stores became fixtures in the Loop and outlying neighborhoods, several Chicago-area retail merchandisers created thick, paper-bound catalogs that were distributed to customers across the nation. Using the U.S. Postal Service and the extensive network of railroads that converged in Chicago to ship orders, retailers with catalogs were able to create a virtual department store. They provided products and services to customers throughout the country, to shoppers who never even set foot in Chicago. Catalogs were a huge success.
Catalogs, however, did little for retail customers who wanted an in-person shopping experience — people who wanted to discuss product attributes with knowledgeable sales associates, view colorful store decorations and display windows or enjoy a gourmet lunch in one of the store's dining rooms. This is where department stores shined and in the years following the Great Fire (1871 to 1910), department stores began to sprout in Chicago like dandelions, especially on State Street in the Loop.
The following is a list of department stores that, over the years, operated on or near State Street:
Marshall Field & Company/Macy's
One of the most admired department stores in the world, Marshall Field & Company's roots in Chicago go back to 1852 when Mr. Field and partner (and future hotelier) Potter Palmer opened a dry goods store on Lake St. in the central business district. Between 1892 and 1906, several buildings within the city block bounded by Randolph St. (north), Wabash Ave. (east), Washington St. (south) and State St. (west) were built over a period of time that resulted in a huge, 13-story department colossus, the new flagship store of Marshall Field & Company. The building, which stands today is the third largest store in the world, was declared a national historic landmark in 1978 and in 2005, both the company and the store were purchased by Macy's, Inc. Macy's continues to operate the store today but has recently reduced the store's sales space by leasing floors 8 through 13 to a private real estate developer.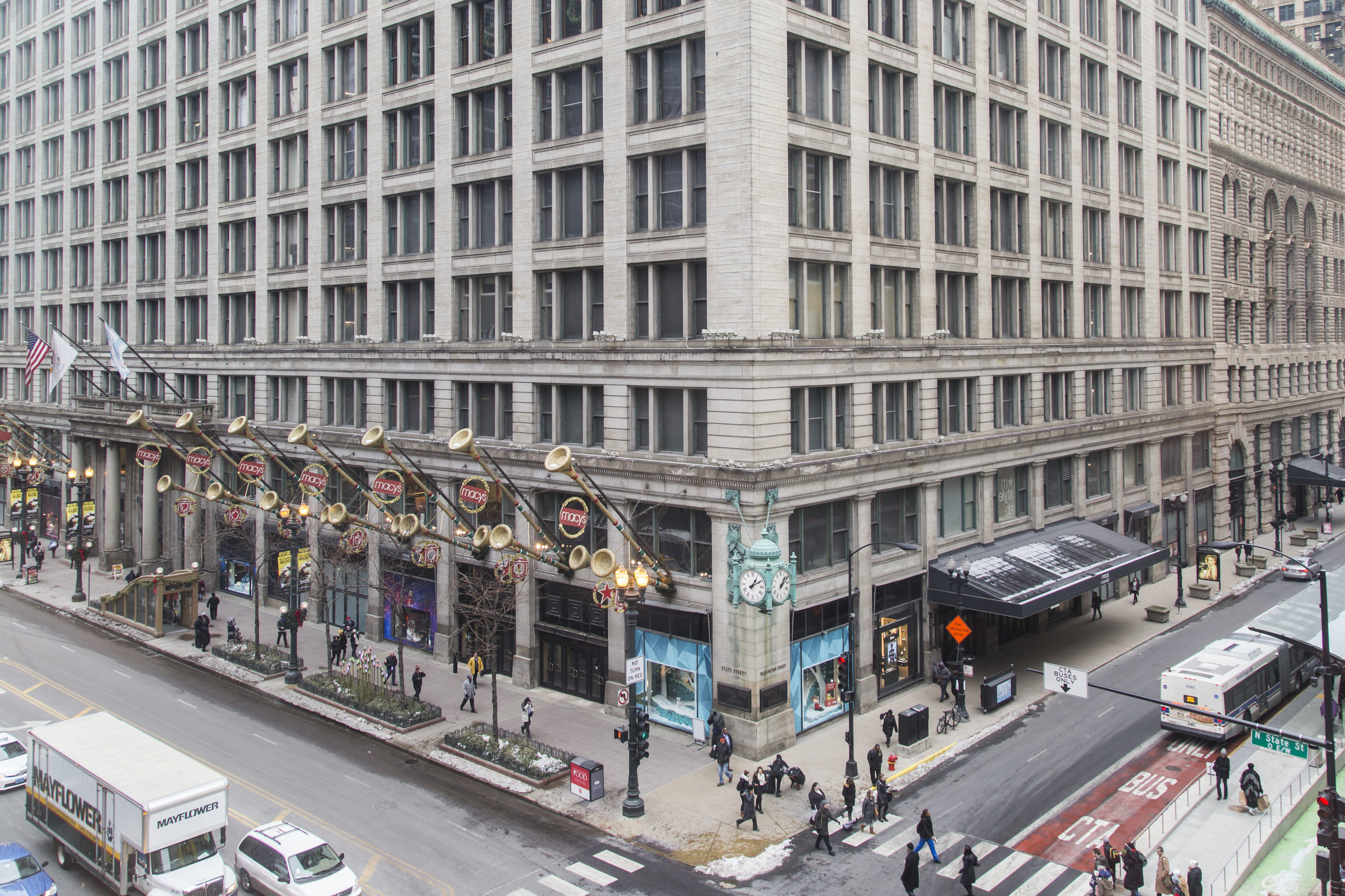 Schlesinger & Mayer/Carson Pirie Scott & Co. 
In 1899, the dry goods store Schlesinger & Mayer commissioned architect Louis Sullivan to redesign its large downtown department store at 1 S. State Street where it employed over 2,500 people. When the work was completed in 1904, Schlesinger & Mayer was no longer financially able to operate the store. Rival Carson Pirie Scott & Co. moved in and occupied it for more than a century, until 2006. Today the building has been renamed the Sullivan Center — the primary retail space on the first two floors contains a Target store and the upper floors are leased to a variety of smaller businesses and not-for-profit institutions, like the School of the Art Institute. The building was designated a Chicago landmark in 1975.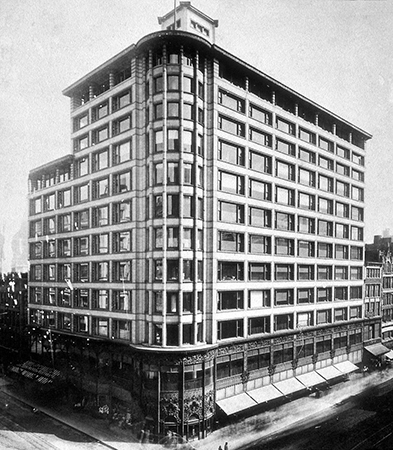 Henry C. Lytton & Sons 
In 1887, men's clothing retailer Henry Lytton opened a store he called "The Hub" at the northeast corner of State Street and Jackson Boulevard. In 1913, the store moved across the street into a new, 18-story skyscraper known as the Lytton Building. After 99 years of business in the Chicago area, Lytton's went out of business in 1986. The store building is now owned and used by DePaul University and is part of the Loop Retail Historic District.
Fair Store/S.S. Kresge/Montgomery Ward
In 1875, retailer Ernst J. Lehmann opened a department store on the corner of State and Adams Streets and called it the Fair Store. In 1897, the original edifice was torn down and a modern, 12-story department store occupied the site. In 1925, the Fair business was sold to retailer S.S. Kresge (predecessor firm of Kmart) which occupied the space until 1956. In 1957, Montgomery Ward purchased the store and occupied it until 1984, when it closed. The building was demolished the following year (1985).
A.M. Rothschild & Co. /Goldblatt's
Rothchild's was a clothing-oriented department store that operated out of a constantly growing building (eventually it grew to a full city block and 8 stories) at the corner of State St. and Jackson Blvd. In 1935, discount retailer Goldblatt's purchased the building from the Rothschilds and brought their style of mass merchandising to State St. In the 1960s, Goldblatt's saw fierce competition from new discount retailers like Kmart, Woolco and Zayre and by 1981, the company filed for bankruptcy. It stayed in business until 2003 when the stores were closed and all inventory was liquidated. The State St. store was sold to DePaul University, which uses the building today for classrooms and offices for its South Loop campus. The building has been designated a national landmark.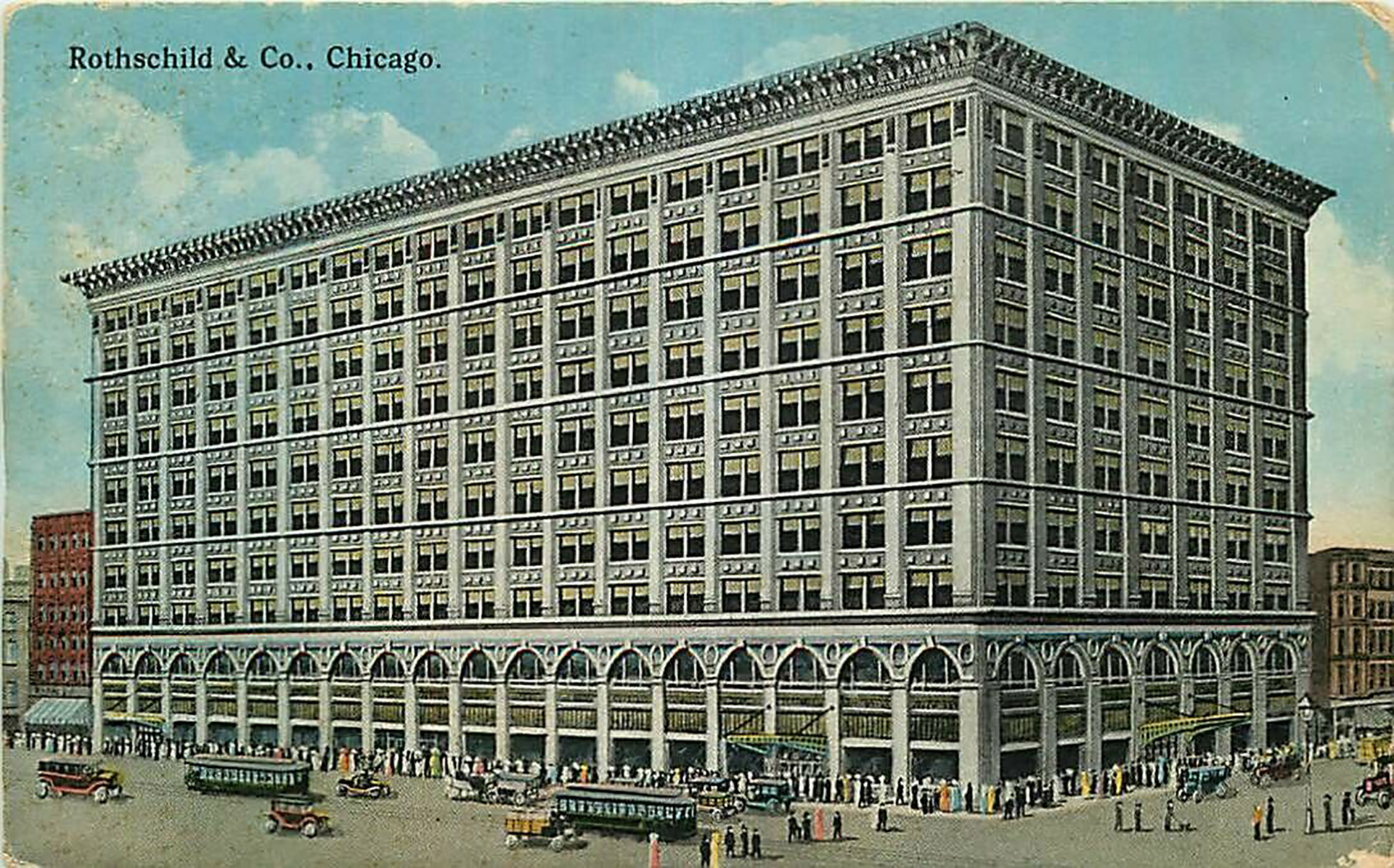 Siegel-Cooper Co./Sears Roebuck
In 1891, discount retailers Siegel-Cooper moved into an eight-story building at the corner of State and Congress (now known as Ida B. Wells) Streets where they remained until 1930. Sears Roebuck and Co. occupied the building from 1931 until 1986. During that time, it was the only downtown store operated by the company — all other Sears stores in Chicago were located in distant neighborhoods, suburbs or nearby states. Designed by pioneering architect William LeBaron Jenny (he built the first modern skyscraper in Chicago in 1884), the building still stands in its original location and is occupied by Robert Morris University, which uses it for classrooms and offices for its South Loop campus.
The Boston Store
Despite its New England-sounding name, Boston Store was founded in Chicago in 1873 and eventually grew to become a 17-story department store that occupied half a city block at State and Madison Streets (2 N. State St.). With more than 20 acres of floor space, Boston Store included in its facilities a post office, a Western Union office, a savings bank, a barber shop, a first aid station, several soda fountains, restaurants, an observation tower and a cigar factory on the 17th floor. Although the company vacated the store in 1948, the building still stands today.

Mandel Bros./Wieboldt's
After two earlier Loop stores burned down, dry goods retailer Mandel Bros. constructed a 15-story department store in 1911 on the northeast corner of State and Madison Streets (1 N. State St.). Mandel's was the first Chicago store to have special shops for foreign goods, the first to open a children's barber shop and the first in Chicago to display apparel on mannequin models. Budget-focused retailer Wieboldt's acquired the Mandel store in 1960 and continued to conduct business there until 1987, which is when the then-bankrupt chain of department stores vacated the State St. property. The building stands today with mixed retail on the first floor and offices above.
Charles A. Stevens
Founded in 1886 initially as a catalog house, Charles A. Stevens & Co. grew into a retail department store with 29 locations throughout the Chicago metropolitan area. In 1912, the company decided to build its flagship store at 17-25 N. State Street, a 19-story building that cost approximately $3 million to build. An upscale fashion retailer, the store specialized in fine women's clothing, the company closed for good in 1989. The building still stands today — the ground floor retail space continues to host a variety of women's clothing stores while the upper floors have given way to offices and non-retail-focused tenants.
– By Tom Schaffner
For more stories about Chicago's fascinating history, take a look at what Chicago city tours we are currently running! L Stop Tours runs unique tours all across Chicago's neighborhoods that are guided by lifelong Chicago residents. Discover the amazing architecture, tasty food, and interesting tidbits about the city in one of our Chicago walking tours!
A Brief Timeline
Billy Goat Tavern, one of Chicago's most unique and best-known bars, has had a number of famous "moments" in its long and illustrious history.  Many are legendary
A goat falls off a passing livestock truck in 1934 and is adopted by near West Side tavern owner Bill Sianis, who decides to grow a goatee and change the name of his bar.  Billy Goat Tavern is born.

Sianis and his goat are denied admission to the 1945 World Series at Wrigley Field against the Detroit Tigers because the goat "smells."  Sianis casts a curse on the Cubs and, when they promptly lose the series to the Tigers, sends a note to Cubs Owner P.K. Wrigley saying, "Who smells now?"

In 1964, Sianis moves his tavern to its present location, 430 N. Michigan Avenue, Lower Level.

A short sketch about a Greek diner resembling Billy Goat Tavern appears on NBC-TV's Saturday Night Live on January 28, 1978.  Overnight, the tavern becomes a "must-see" destination for locals and tourists.

On April 29, 1997, Pulitzer Prize-winning newspaper columnist and number one Billy Goat Tavern booster Mike Royko dies at age 64.
I didn't happen to be at the bar when any of these illustrious moments occurred, however, I've frequented the pub enough over the years to be deemed a regular and, as such, have experienced a number of great moments of my own in that wonderful den of iniquity.
Why am I a regular?  The primary reason is because I have worked in the Streeterville neighborhood since 1974 and Billy Goat Tavern has always been a convenient but off-the-beaten-track bar where one could enjoy a couple of beers without being pestered (at least in the early years) by tourists.  The other reason I hung out at Billy Goat was because I was a journalist and we all know that journalists like to hang out with other journalists at bars and listen to each other's stories about what it's like to be an ink-stained wretch.  I was no exception.
Another Perspective
What are my greatest moments in Billy Goat's over the years?  I'm glad you asked — I've listed them in reverse order below:
10) The "Back" Room
A group of us — "young Turks," as our boss labeled us — worked in a skyscraper that towered over Billy Goat's like Wilt Chamberlain standing next to Mini Me.  A quick elevator ride down to street level and few steps (maybe thirty?) put us in front of the famous "Butt in Any Time" sign at the entrance of the pub.  It was easily the closest bar to our office.  And because our office closed earlier than most, we were generally the first after-work revelers to descend on Billy Goat's on Fridays for cocktails (4:01 p.m.).  Being early allowed us to commandeer the back room (now called the VIP Room) and have it mostly to ourselves for an hour or two.  Between 1980 and 1986, we solved all the world's problems over cocktails in that location.  
9) My Farewell Party
In 1986, I announced that I was leaving my job as director of communications for a Michigan Ave. firm and starting my own consulting business.  Fellow employees put together a farewell party, replete with gag gifts and other paraphernalia.  I remember one of the gag gifts distinctly — an actual cow's tongue that was wrapped in cellophane.  (The gag worked because a lot of us worked in the meat business at the time.)  I momentarily put the gift on top of the Billy Goat's serving counter to remove another item from my briefcase.  At Billy Goat's, the sight of a real cow's tongue on a serving counter didn't even register a blip among nearby patrons or employees.  As a matter of fact, I think one of the employees asked me, "You want cheeps with that?"
8) Drinking With the Pressmen
Back in the day, Billy Goat's was not just for journalists, it attracted second and third-shift newspaper employees who worked late into the night printing Chicago's daily newspapers.  One night, a friend and I found ourselves downtown after midnight and we decided to go into the Goat for a quick one (or two).  Seated next to us at the bar were two pressmen from the Chicago Sun-Times who regaled us with printing stories and offered to give us a tour of the presses at some point in the future.  I don't think I could have ever had that experience at any other Chicago bar.  Thank you, Billy Goat.
7) Nanny & Billy
The Womens' and Mens' toilets at Billy Goat have always been labeled "Nanny" and "Billy."  For some reason, this confuses tourists and other first-timers who don't know which was the correct one to go in — so they'd ask us (when we were sitting nearby) and we'd tell them.  "Nanny is a young male goat and Billy is grown one."  That was wrong, of course, but it was fun to look at the expressions on people's faces as they sheepishly came out of the incorrect bathroom and scooted over to the correct one.
6) My First Legal Beer in Illinois
Like many other states at the time, Illinois lowered the legal age to purchase beer and wine to 19 in 1973.  I turned 19 in September of 1974 and when I returned home for Christmas break from college, I started an internship at a Streetervillle public relations firm (on Erie St.) that was only a short walk to the Goat.  Fortunately, my boss and several co-workers sensed the magnitude of my personal milestone and treated me to lunch where I washed down a double cheeseburger with a mug of Schlitz.  It was December 20, 1974 — I was legally an adult and a Goat "virgin" no more.
5) My Colleague Gets a Beer Dumped on Him
One of the guys I worked with at the Michigan Ave. firm had a penchant for saying wrong things to women he tried to flirt with.  One evening a group of us were in the back room when suddenly a woman from our group stood up, called this guy a "disgusting pig" and, with the flourish of a symphony conductor, dumped a full mug of Schlitz on the offender's head.  Funny?  Yes.  A waste of a good beer?  You be the judge.
4) Consecutive Cheeseburgers Streak Comes to A Halt
It was about noon on a Wednesday in 1983 and I was feeling a little peckish, so I decided to pop down to the Goat for a beer and something to eat.  I don't know what got into me.  I decided on the fly that for the first time in more than 10 years I was going to order something different to eat — no double cheeseburger for me today.  When the grill cook (who knew me) looked at me and asked, knowingly, "Dobla Cheez?", I surprised him and said, No.  Give me a Grilled Ham and Cheese."  He looked at me strangely for a second and then said, "OK."  I enjoyed the sandwich but started a new cheeseburger streak two days later.
3) The Crack of Dawn
Her name wasn't Dawn and I don't even know what his name was — but neither of these tidbits matter.  What's important (at least to this blurb) is that my companion and I were enjoying a cocktail when suddenly I notice her edging her cell phone camera into position for a photo.  I asked her what's going on and she "shushes" me to be quiet with her index finger over her lips.  I look over my shoulder to see what is so picture-worthy and I see a man and woman sitting at the bar with their backs to us.  He is attempting to put his arm around her waist and she has a pair of shorts on with a plumber's crack that is revealing a colorful tattoo and at least half a moon.  I consider telling the couple about the "Butt In Any Time" sign at the entrance to the tavern but decide it's probably best to keep that information to myself.
2) The French Chef Visits Billy Goat 
In 1979, a group of my colleagues convinced Julia Child to become a judge at the National Beef Cook-Off in Omaha.  While there, our group told Julia about the Billy Goat and how it was the closest bar (and grill) to our office.  She said that she would like to visit and would let us know when she planned to go there.  On June 1, 1981, she called our office and said she was going to visit Billy Goats the following day and did we want to join her?  Of course we did — it was kind of like the Queen of England slumming with a visit to White Castle.  It's something you just have to witness in person.  Like everyone else, Julia loved Billy Goat's and especially the cheeseburger.  "I could live on this forever," she said.
1) Royko Gets His Comeuppance
A friend and I were enjoying beers at one of the front tables.  Sitting no more than two feet away (at the next table) was Mike Royko and a colleague.  My friend decides he must say something and interrupts Royko's private conversation.  He tells Royko how much he loves his column, praises him for being great writer and for being a Billy Goat's booster.  Royko, hearing my friend's accent, says "You must be from New York.  I can hear it in your words."  My friend denied being a New Yorker and threw him more flattery.  Royko asked again, "Aren't you from New York?  Where are you from?"  My friend looks him right in the eye and says, "I'm not from New York.  I'm from Brooklyn."  Knowing he'd been roped into a trap, Royko ceased all conversation, motioned to his friend and the two of them got up and left.  Even though he was a celebrated Pulitzer Prize winner, he should have known — a Brooklynite will never admit to being a New Yorker.
– By Tom Schaffner
For more stories about Chicago's fascinating history, take a look at what Chicago city tours we are currently running! L Stop Tours runs unique tours all across Chicago's neighborhoods that are guided by lifelong Chicago residents. Discover the amazing architecture, tasty food, and interesting tidbits about the city in one of our Chicago walking tours!
Situated on the lakefront between Lakeview on the south and Edgewater on the north, Uptown is a vibrant, diverse neighborhood with roots dating back to the 1880s.  Nearby Argyle Street, home to many Asian-owned retail shops and restaurants, is a small, mini-neighborhood located in the northeastern corner of Uptown.  Together they form one of the most dynamic and distinctive communities on Chicago's North Side.
Uptown
Uptown has a unique history.  Initially inhabited by Swedish and German farmers, real estate developers noticed the desirability of the area when the Northwestern Elevated Railway Company opened a terminal at Wilson and Broadway (today's Red Line) in 1900 and initiated train service to the Loop.  In 1915, a local merchant opened a branch of his Loren Miller & Company department store (later Goldblatt's) on Broadway south of Lawrence.  He called it the "Uptown Store" to differentiate it from its Loop counterpart and soon it became the unofficial (and later, official) name for the neighborhood.
Over the years, Uptown has evolved in a number of different ways:  For decades it was a "get-away" spot for city dwellers who wanted to get away from the rat race of the Loop; it served as the center of America's motion picture industry in the early 1900s (before the business relocated west to Hollywood); served as a shopping, entertainment and dining destination for generations of Chicagoans; and continues to this day to serve as a port of entry for Chicago's newest arrivals, immigrants, who are seeking a better life for themselves and their families. 
Argyle Street
Argyle Street, on the other hand, is a relatively new neighborhood located in an older part of town.  The area got its start as Argyle Park, a northern suburb of Chicago that was annexed by the city in 1889.  It was named by Chicago Alderman James A. Campbell for his ancestors in Scotland (the Dukes of Argyll).  Shortly thereafter, the main thoroughfare running through the area was Anglicized and named Argyle St. (5000 North).
It wasn't until the 1960s that Argyle Street underwent a "rebirth" that put it on the radar of most Chicagoans.  Well-known Chicago restaurateur Jimmy Wong bought property in the area and began to turn it into "New Chinatown" a North-Side enclave that he felt could rival Chicago's older and more established Chinatown on the South Side (Archer and Wentworth).  Wong was convinced Chicago could support two Asian entertainment districts.  Today, Argyle Street has a pan-Asian population that features a wide array of Chinese, Vietnamese, Cambodian, Laotian and Thai restaurants, grocery stores, bakeries and other businesses that are Asian-owned.
Self Guided Tour
The Uptown/Argyle Street neighborhood is loaded with interesting sites and places of interest — perfect for a self-guided tour, courtesy of L Stop Tours, Chicago's unique neighborhood tour company.
Castlewood Terrace
(4900 North, 800 to 957 West) 
An unusual one-block street consisting of 26 well-appointed single-family houses built between 1897 and 1927 in a neighborhood that contains an inordinate amount of high-rise apartment buildings.  Named for the developer, Charles W. Castle and also the woods that bordered the area on the north side of the street, Castlewood Terrace homeowners resisted high-rise developments on their street and worked hard to maintain the single-family home status quo.  Their efforts paid off, in 2009 the district was added to the National Register of Historic Places and now qualifies for preservation at the federal level.
The Green Mill
 4802 N. Broadway
Opened in 1907 as Pop Morse's Roadhouse, this swinging jazz joint became known as the Green Mill in 1910 and has been serving up great music and entertainment ever since.  During Prohibition, "Machine Gun" Jack McGurn, a member of Al Capone's gang, became a part-owner of the club.  He had tunnels constructed that led to the street adjacent to the building so mobsters could slip out of the club unnoticed, if necessary.  Today the Green Mill hosts a wide variety of musical acts and hosts one of the nation's oldest poetry slams on Sunday nights.
Baton Show Lounge
4713 N. Broadway
After more than 50 years operating a successful all-male revue in River North, the Baton Show Lounge relocated its female impersonation show and cabaret to the Uptown neighborhood in 2018.  Over the years, the Baton has elevated female impersonation to an art form as is known nationally for the high entertainment value of its shows.  Celebrities that have attended Baton shows include Oprah Winfrey, Madonna, Janet Jackson, Mariah Carey, Sammy Davis, Jr., Ted Kennedy, Lauren Bacall and Liza Minnelli.
Essanay Studios
1345 W. Argyle
From 1907 to 1917, Chicago was the motion picture capital of the world and one of its busiest and most popular studios was located on West Argyle Street, Essanay Studios.  The name was a play on the initials of the two founders, George K. Spoor and Gilbert Anderson ("S and A").  Essanay produced silent films and had a stable of stars that included Charlie Chaplin, Ben Turpin, Wallace Beery, Francis X. Bushman and Gloria Swanson.  One of Chaplin's most popular and best-known films, The Tramp, was produced and distributed by Essanay in 1915.  Eventually, Chicago lost out to the warmer climes of Hollywood and the Essanay Studio changed hands several times over the years.  Today the building is part of St. Augustine's College and its main meeting hall has been named the Charlie Chaplin Auditorium.
Roots of Argyle Mural
SW Corner of Winthrop and Argyle Streets
The mural, located on the side of the Hoa Nam grocery store, is a centennial celebration of the historic movers and shakers of the Argyle Street community.  The mural utilizes the existing front doorway facade of the old Essanay Studios as the main architectural motif of the painting which depicts immigrants passing through doorways to their new life in the Argyle Street community.
Bridgeview Bank Building
 4753 N. Broadway
Built in 1924, this historic building was originally known as the Sheridan Trust and Savings Bank and was designed by the same architects who conceived the Drake and Blackstone hotels downtown.  When that institution failed in 1931, it became the Uptown National Bank and in 2003 it became the Bridgeview Bank.  Designated a landmark in 2007, the 12-story neoclassical building was recently sold and is currently in the process of being converted into 175 rental apartments by the new owner.  If the rounded corners of the triangular-shaped building looks familiar to you, it might be because it was used extensively in the 2009 motion picture Public Enemies.
Montrose Point Bird Sanctuary
Montrose and Lake Michigan
Overlooking Lake Michigan at Montrose Ave. is the Montrose Point Bird Sanctuary, a 10-acre prairie-like park that hosts thousands of seasonal migratory birds, particularly in the spring and fall.  The park's signature attraction is a 400-foot strip of trees and shrubbery called the "Magic Hedge" for its mysterious ability to regularly attract a wide range of birds, including warblers, sparrows, sandpipers, purple martins, woodpeckers and owls.  A special bonus of the Sanctuary is its spectacular over-the-water view of Chicago's skyline.
Aragon Ballroom
1106 W. Lawrence
Built in 1926, the Aragon is a massive dance hall that's designed to resemble a Spanish village, replete with twinkling stars on its domed ceiling.  In its first four decades of operation, the Aragon was the place to dance in Chicago — all of the popular bands played there and powerhouse radio station WGN-AM broadcast a one-hour program nightly live from the Aragon to listeners in 36 states and Canada.  By 1964, however, the world had changed and so did the Aragon.  Since then it has survived by holding huge rock concerts, hosting boxing matches, served as a roller rink and also as a disco.  Today it hosts a variety of smaller rock concerts.
Riviera Theatre
4746 N. Racine
Built in 1917 for the Balaban and Katz chain of Chicago theatres at a cost of half a million dollars, the Riviera opened to the general public primarily as a movie theatre but with occasional bookings for concerts.  The beautiful French Renaissance Revival-style building could accommodate 2,500 patrons and quickly became a favorite of local residents who were looking for fun and intrigue in Uptown's burgeoning entertainment district.  The theatre stopped showing movies in the late 1970s and shifted entirely to live entertainment, which it continues to host to this day.
Clifton Avenue Street Art Gallery
Adjacent to Wilson Ave. Red Line Station
This "open air" art gallery incudes more than 70 large-scale murals from artists all over the world and is located between Wilson Avenue and North Broadway.  Developed by Uptown United, a community organization, in 2019, the gallery brightens up an old, dingy alley and marks a new cultural destination in Uptown.
West Argyle Street Historic District
North Broadway Ave. and West Argyle Street
This 41-acre Asian community is located largely within these boundaries:  North Glenwood on the west, Winona Street on the north, Sheridan Rd. on the east and Ainsley Street on the South.  Listed on the National Register of Historic Places, the West Argyle Street Historic District is characterized by a conglomeration of Vietnamese, Cambodian, Laotian and Thai restaurants, bakeries, grocery stores and small retail shops.  The neighborhood also is known for its "Taste of Argyle" food festival, held annually in the summer months.
Haitian American Museum of Chicago
4654 N. Racine Ave.
A long-time port of entry for generations of immigrants, Uptown is a fitting location for the Haitian American Museum of Chicago, a gathering place where Chicagoans and visitors explore Haitian art, culture and history.  Since 2012, the museum has hosted a wide array of exhibits showcasing Haiti's rich culture and complex history.
Holder of two journalism degrees, including a masters from Northwestern University, Tom Schaffner is a native of the Chicago area and has spent nearly 50 years as a writer, editor, publisher and professional communications consultant. He was also the founder, editor, and publisher of the Chicago File, as well as the co-owner of L Stop Tours.
– By Tom Schaffner
For more stories about Chicago's fascinating history, take a look at what Chicago city tours we are currently running! L Stop Tours runs unique tours all across Chicago's neighborhoods that are guided by lifelong Chicago residents. Discover the amazing architecture, tasty food, and interesting tidbits about the city in one of our Chicago walking tours!
Andersonville is accessible via the Red Line Berwyn L Stop.
A Swedish Community
From the early 1800s until 1960, Swedes ranked as Chicago's fifth-largest foreign-born group, behind Poles, Germans, Russians and Italians.  For the most part, Swedes congregated in neighborhoods on the Near North Side of the city, especially in areas such as Lincoln Park and Lakeview.  After the Great Chicago Fire of 1871, large numbers of Swedes moved farther north in order to escape the city's new, strict building code which prohibited the use of wood in residential construction (and therefore made house construction more expensive).
One of the areas settled by Swedes was a bucolic subdivision about 6 miles north of the Loop (present-day intersection of Clark Street and Foster Ave.) called Andersonville.  The residential development was named, ironically, after a Norwegian community leader, Reverend Paul Andersen, whose name was often misspelled with an "e" instead of an "o."  It grew to become a thriving community of Swedes until the Great Depression when many decided to relocate to the nearby Chicago suburbs.
Today's Andersonville
Not all Swedes left the neighborhood, however.  In 1964, Andersonville was rededicated as a community by Mayor Richard J. Daley and Illinois Governor Otto Kerner, and to celebrate the occasion the Andersonville Chamber of Commerce reinstituted the Swedish tradition of celebrating the summer solstice by hosting Midsommarfest, one of the neighborhood's largest and most popular outdoor festivals.  To honor the contributions of early Swedish immigrants to the area, local residents opened a Swedish American Museum with a gala ceremony that was attended by King Carl XVI Gustav of Sweden.
Today, Andersonville is a diverse and vibrant community comprised of third- and fourth-generation Swedes, Mexicans, Koreans and Lebanese.  Andersonville also is home to a thriving LBGTQ population as well as a pastiche of independent, locally-owned businesses that give the area a strong sense of both family and community.
We've put together a self-guided tour of Andersonville that helps you discover some of the area's points of interest:
Swedish American Museum
, 5211 N. Clark St.
Founded in 1976, the Swedish American Museum is a repository of Swedish art, history and culture.  The Museum's main exhibit, "The Dream of America: Swedish Immigration to Chicago," displays hundreds of artifacts, pictures and descriptions of the mass immigration of Swedes to Chicago beginning in the late 1800s.  Visitors learn about the struggle these immigrants faced and how they forged new lives in their new land.  The first floor of the museum is filled with artifacts created by contemporary Swedish and Swedish-American artists and craftsmen.  For anyone visiting Andersonville, the Swedish American Museum is the ideal first stop on a self-guided tour.
Swedish Flag Water Tower
, 5211 N. Cark St.
Atop the Swedish American Museum is an iconic Chicago water tower that is painted to resemble the flag of Sweden — blue background with a bright yellow cross that is centered on the front facade.  Constructed in 1927, the water tower has looked down over Andersonville for nearly a century.  Damaged by snow and ice in 2014, the water tower was refurbished, rebuilt and remounted atop the Museum.  Though it no longer functions as a water tower, it has regained its former role as one of the most noticeable attractions of Andersonville.
Lost Larson
, 5318 N. Clark St.
When the Swedish Bakery, an Andersonville landmark, closed after more than 80 years in business on North Clark St., locals wondered where they might find their next lingonberry almond cake.  They didn't have to worry for long — enter Lost Larson, a bakery and cafe that more than fills the void left by the Swedish Bakery.  Chef and owner Bobby Schaefer masterminds the treats, which range from cardamom-scented chocolate croissants to calamansi meringue tarts.  Savory, open-face sandwiches topped with fresh produce and quality meats are also available.
Simon's Tavern
, 5210 N. Clark St.
Open since Prohibition ended (1934), Simon's Tavern has built its reputation by serving glogg, a traditional Scandinavian mulled wine during the winter and a "slushy" version of it during the summer months.  The interior of the bar is worth noting.  There's a neon fish drinking a martini, Viking paraphernalia, ancient Schlitz advertising and Swedish artifacts and treasures from the surrounding neighborhood.  
Women and Children First Bookstore
, 5233 N. Clark St.
Women and Children First is one of the nation's largest feminist bookstores stocking more than 20,000 books by and about women, children's books, and a wide-ranging collection of LGBTQ literature.  First opened in 1979, the store strives to offer an environment where "everyone can find books reflecting their lives and interests in an atmosphere in which they are respected and valued."
Ebenezer Lutheran Church
, 1650 W. Foster
This beautiful church was constructed in 1902 by a rapidly-growing congregation of Swedes who lived in and around the Andersonville neighborhood.  The altar, considered by Chicago artists and architects to be one of the most perfectly balanced works of its kind, includes two magnificent carved stone doorways and art glass windows that feature scenes from the life of Christ.
Rosehill Cemetery
, 5800 N. Ravenswood Ave.
Located on a beautiful 350-acre North Side site, Rosehill is the largest cemetery in the City of Chicago.  The front gate to the cemetery was designed by William W. Boyington, the architect of the old Chicago Water Tower, and was listed on the U.S. National Register of Historic Places in 1975.  Rosehill is the final resting spot for a number of well-known Chicagoans, including broadcaster Jack Brickhouse, advertising executive Leo Burnett, meat industry executive Oscar Mayer and retailer Aaron Montgomery Ward.
Chicago Greystones
, 1400-1500 W. Berwyn
Greystones are residential units constructed out of limestone from South Central Indiana that gives the home a distinctive grey, castle-like feel.  They are relatively common in Chicago (more than 30,000 of them) but are scarce in other parts of the country.  Most of the housing units are built either as single-family townhomes, a two-flat or a three-flat.  In Chicago, the first greystones were built in the 1880s (a decade after the Chicago Fire) because the city's new fire code banned wood construction — making them an ideal housing unit for the city.  Andersonville is home to many Chicago greystones which can be seen on a number of residential streets throughout the neighborhood, including west Berwyn St.
Hopleaf
, 5841 N. Clark Street
Opened in 1992, Hopleaf is a relaxed, no-nonsense tavern offering 68 types of craft beer, fine wines, spirits and cocktails, cider and meads.  About 15 years ago, Hopleaf began to offer thoughtfully sourced, in-house prepped, chef-inspired dining and effectively turned itself into one of the nation's first gastropubs.  It wasn't long before it earned a listing in the Michelin Guide.  Hopleaf's website describes the atmosphere of the gastropub:  "Lacking screened distractions, games or live entertainment, Hopleaf is for drinking, eating and talking with friends, new and old."
Edgewater Historical Society
, 5358 N. Ashland Ave.
Edgewater is a large community on the north side of Chicago that encompasses Andersonville and two other neighborhoods — Lakewood Balmoral and Bryn Mawr.  Located in a renovated firehouse in Andersonville, the Edgewater Historical Society is a museum that collects and preserves the history of local residents, businesses and local organizations.  It contains a wide range of live and virtual exhibits, including retrospectives on the gone-but-not-forgotten Edgewater Beach Hotel, Sheridan Road, and the fluctuating water level of Lake Michigan (and its impact on Chicago's shoreline).
Chicago Magic Lounge
, 5050 N. Clark St.
Opened in 2015 in Andersonville as an homage to the close-up magic bars and restaurants of the 1930s and 40s, this retro-styled venue features strolling magicians who perform close-up card tricks and other illusions tableside for customers.  The Magic Lounge also has several small theaters that showcase touring magicians and related mystical entertainment.
Andersonville Galleria,
5247 N. Clark St.
The Andersonville Galleria is a retail market building that features over 100 vendors offering apparel, jewelry, artwork, home furnishings, giftware, accessories, antiques, fair trade and gourmet treats.  It's like a combination indoor art festival and outdoor flea market.
Philadelphia Church
, 5437 N. Clark St.
Built in 1921 as the Capital Savings Bank, the financial institution didn't survive the Great Depression.  In 1939, the building was purchased by the Swede-influenced Philadelphia Church whose mission was and still is "to bring people to Jesus Christ and to fellowship in the church body."  A huge, 1940-ish neon sign over the front door that reads "Jesus Saves" steals the show.  When lit, it is one of the most picture-worthy shots in all of Chicago.
---
---
Holder of two journalism degrees, including a masters from Northwestern University, Tom Schaffner is a native of the Chicago area and has spent nearly 50 years as a writer, editor, publisher and professional communications consultant. He was also the founder, editor, and publisher of the Chicago File, as well as the co-owner of L Stop Tours.
– By Tom Schaffner
For more stories about Chicago's fascinating history, take a look at what Chicago city tours we're currently running! L Stop Tours operates unique tours all across Chicago's neighborhoods that are guided by lifelong Chicago residents. Discover the amazing architecture, tasty food, and interesting tidbits about the city in one of our Chicago walking tours!
Its own city
For 106 years, the Chicago Union Stock Yards and adjacent meat packing plants were the most dominant businesses on Chicago's South Side.
The Stock Yards complex was a veritable city unto itself — a 450-acre tract of land with 10,000 livestock pens with a capacity of tens of thousands of animals; hundreds of smoke-belching meat packing and rendering plants; a large post office dedicated primarily to Stock Yards workers; fully functional fire and police departments; an upscale hotel and world-renowned restaurant (the Stock Yard Inn); and a cavernous indoor stadium (the Chicago Amphitheatre), which hosted livestock shows, presidential nominating conventions and even the debut season of the Chicago Bulls (whose nickname was derived from the neighborhood's most abundant commodity).
The Stock Yards District also was home to "Whiskey Row," approximately 75 bars and taverns that were crammed into a one-mile stretch of South Ashland Ave.; more than 150 miles of railroad track that crisscrossed the neighborhood like steel mesh; and its own dedicated elevated transit line — the "Stock Yards Branch" — which featured stations that were named after meat industry names and businesses, such as Packers Ave., Exchange Ave., Swift and Armour.
While the Stock Yards withstood many challenges during its eleven-decade existence — several horrific fires, labor unrest, economic depressions, political pressure and ever-tightening food and safety regulations — the facility finally fell victim to a force it could not stop, the decentralization of the nation's livestock and meat industries.  Chicago's meat packers simply closed shop and moved west to be closer to the supply of livestock.  As a result, the Stock Yards no longer were needed as a marketing center.  On July 31, 1971, the huge facility closed its famous front gate for the last time — it was the end of an era for one of Chicago's largest and most important industries.
What's there now?
Today, more than 50 years after its closing, there are very few remnants of the livestock or meat packing industries on Chicago's South Side.  The entire complex (livestock pens, packing plants, railroad shipping facilities) has been bulldozed — replaced by a massive development called "Stockyards Industrial Park," an assortment of warehouses and manufacturing plants that are engaged in virtually every type of business other than meat packing.  Nearby retailers no longer identify their shops with special neighborhood monikers (i.e. Stock Yards Hardware, the Yards Coffee Shop, etc.); and even that smell, that pungent, odoriferous, godawful smell that permeated every square inch of the South Side (and often the entire city), is gone.
Is anything left from Chicago's glorious past as the livestock and meat packing capital of the world?  Yes, but you have to know where to find it.  That's where we come in.
Welcome to L Stop Tours' Self-Guided Tour of Chicago's former Stock Yards and Meat Packing District.
Bubbly Creek
South Branch of the Chicago River near Ashland Ave. to W. 38th St.
This infamous one-mile stretch of waterway served as a dumping ground for waste materials from the city's meat packers (blood, entrails, etc.) during the first 50 years of the Stocky Yards existence and was brought to everyone's attention by Upton Sinclair in his novel, The Jungle.  The Creek's name is derived from small gas bubbles that regularly burst on the surface of the Creek — a byproduct of the, uh, byproducts in the water for all these years.  Today, the waterway is much cleaner than it was in Sinclair's day and the channel is suitable for boating or fishing.  On a hot day, if you take a close look at the surface of the water from one of the area's bridges, you can still see bubbles rising to the surface.

Live Stock National Bank
4150 S. Halsted
Built in 1925, this beautiful Colonial Revival-style building is a survivor.  A replica of Philadelphia's Independence Hall, the bank outlasted the Great Depression, Chicago's gangland wars of the Roaring '20s and the horrific Stock Yards fire of 1934 (the bank opened for business the next day).  The interior of the building was not what you would expect for a bank that mostly did business with blue collar meat plant workers, cattlemen and neighborhood residents — it was opulent, with chandeliers, plenty of marble, classical moldings, raised panels and fluted pilasters.  The bank closed in 1965, six years before the Stock Yards would cease operation.  Although many efforts have been initiated to redevelop the building over the years, none have made it the finish line.  The building stands today on the northeast corner of Halsted and Exchange — empty and boarded up — waiting for someone to restore its former prominence.
Stock Yards Gate
Exchange Ave. at Peoria St.
Erected in 1875, this limestone gate, designed by renowned local architect John Welborn Root, stands today as one of the few visual reminders of Chicago's past dominance in the livestock and meat packing industries.  Designated a National Historic Landmark in 1981, the gate marked the eastern entrance to the vast 475-acre Stock Yards, the largest facility of its kind in the world.  Directly behind the gate is a memorial to Chicago Firefighters who died in the line of duty, especially those who perished in the Stock Yards Fire of 1934.
Stanley's Tavern
4258 S. Ashland Ave.
The history of Chicago's Stock Yards is interwoven with characters from the neighborhood who, like the Yards themselves, were long time survivors.  Stanley's Tavern is the last saloon still operating on Whiskey Row, the infamous stretch of Ashland Ave. between Pershing Rd. and W. 47th St, which housed dozens upon dozens of bars for thirsty Stock Yards employees, meat packing workers and neighborhood residents.  Though Whiskey Row dates to the early days of the Stock Yards (1865), Stanley's has an equally impressive history and has been serving loyal customers in the same location since 1935.
Back of the Yards Neighborhood Council
1823 W. 47th St.
Just southwest of the Stock Yards, Chicago's Back of the Yards neighborhood has long served as a beacon of light for immigrant workers seeking opportunity —jobs in livestock and meat packing industries and affordable nearby housing.  Over the years the Back of the Yards neighborhood has been among the most ethnically diverse areas of the city — among the first arrivals were the Poles, Czechs and Lithuanians, then the Slovaks, African Americans and then Mexican Americans.  Formed after the Great Depression, the Back of the Yards Neighborhood Council is an organization whose mission is to "enhance the general welfare of all residents, organizations, businesses in our service areas."  It accomplishes this with social service and economic development programs that support the community.  The Back of the Yards Neighborhood Council stands today as a reminder that neighborhoods and community organizations often outlive the businesses and industries that once were responsible for their birth and existence. 
Swift Mansion
4500 S. Michigan Ave.
This ornate, Richardsonian Romanesque gray stone mansion was built in 1892 as a wedding gift to Helen Swift, the daughter of Gustavus F. Swift, the founder of Swift & Co. and also the inventor of the refrigerated rail car (for shipping meat carcasses long distances).  Interestingly, Helen Swift married Edward Morris, the son of another large Chicago meat packer, Nelson Morris.  The Morrises lived in the home until 1916 when they moved to another they built on nearby Drexel Ave.  After serving as a residence for other families, the mansion was a funeral home and most recently was occupied by the Urban League and the Inner City Youth and Adult Foundation.
Stockyards Industrial Park
located in an area bounded by Pershing Road, Halsted Ave., W. 47th St. and Ashland Ave.
There is life after the Stock Yards, particularly in terms of the Stockyards Industrial Park, a collection of about 100 businesses (warehouses, manufacturing plants, offices) that have been built on the former Stock Yards property in the 50 years since the huge livestock facility closed.  The Industrial Park is clearly marked — huge metal, gate-like structures with "Stockyards Industrial Council" inscribed on circular medallions arch over neighborhood streets, marking the boundaries and major arterials running through the park.  Without these signs, it is virtually impossible to detect that the Stock Yards once stood here.
Railroad Tracks
3950 S. Morgan
The railroads played a leading role in the success of the Union Stock Yards over the years.  Livestock-hauling freight trains brought hundreds of millions of animals Chicago annually from all parts of the country and refrigerated railroad cars (invented by meat packer Gustavus Swift in 1875) enabled meat carcasses to be shipped as fresh product back to those very same parts of the country that the livestock came from, and farther.  Railroads were the transportation vehicle of choice until the 1950s when trucks made the process more efficient and economical.  Though many of the railroad tracks that snake through the district are abandoned, some, including this set of tracks on Morgan St. are still active and in use.
Kent House
2944 South Michigan Ave.
Designed in 1883 by the prominent architectural firm of Burnham and Root, this lovely Queen Anne mansion was built for Sydney A. Kent, one of the founders of the Chicago Union Stock Yards and survives as one of the few remaining mansions on this former upscale stretch of South Michigan Ave.  Recently converted into several condominium apartments, the building was designated a Chicago landmark in 1987.
Stock Yards L Branch
State Street and West 40th Street
In 1908, the South Side Elevated Railroad took over a little-used 2.8-mile railroad line running west from the Indiana Avenue Station (today's Green Line) and extended it to the Stock Yards where it went around a big loop and headed back toward Indiana.  The Stock Yard Branch, as it was called, was popular with the 50,000 area workers as well as tourists who would take the L from downtown to visit the huge Stock Yards complex.  The Chicago Transit Authority, which assumed control of Chicago's public transit system in 1947, discontinued operations on the line in 1957 due to declining ridership. This remnant of the elevated line (a "severed" overpass on State Street near West 40th Street) reveals where the former elevated line used to run.
Vienna Beef
1000 W. Pershing Road
One of Chicago's most prolific and popular meat companies, Vienna Beef, which got its start when its founders sold hot dogs at the 1893 Chicago World's Fair, never had a manufacturing facility located anywhere near the Stock Yards or Packingtown…until 2013.  That's when the Chicago-based company moved its manufacturing facility from its long-time North Side location to its present site on the northern edge of what is now Stockyards Industrial Park.  While other meat packing plants and food manufacturing facilities have long-since vacated the South Side and Stock Yards District, Vienna Beef stands today as one of the few actual meat companies that still operate within the former Stock Yards district — even though it is a relative newcomer to the neighborhood.
Packers Avenue
 1300 west for 6 blocks from 4000 south to 4600 south
Today, Packers Avenue is just another street sign that labels a non-descript roadway in an industrial park.  Over 100 years ago, the largest meatpackers in the world lined this street, which got its name from the businesses that operated here.  Another area street, Exchange Avenue (runs west at 4150 S. Halsted), is named after the Exchange Building of the Union Stock Yards, an office building where the paperwork for all live animal transactions was completed.
Holder of two journalism degrees, including a masters from Northwestern University, Tom Schaffner is a native of the Chicago area and has spent nearly 50 years as a writer, editor, publisher and professional communications consultant. He was also the founder, editor, and publisher of the Chicago File, as well as the co-owner of L Stop Tours.
– By Tom Schaffner
Looking for something interesting to do on a dreary afternoon?
Take the CTA Red Line to the Sheridan stop and walk a few blocks west to the Clark St. entrance of Graceland Cemetery — one of the most historic sites in the City of Chicago.
Graceland Cemetery is the final resting spot for some of Chicago's best known citizens and also serves as home to some of the most spectacular grave sites and monuments in the entire city. Getty Tomb, designed by well-known architect Louis Sullivan (who is also buried at Graceland), is an official Chicago landmark and is perhaps one of the most photographed tombs in the United States. It is the final resting spot for Carrie Eliza Getty, wife of wealthy Chicago lumber baron Henry Harrison Getty.
Graceland Cemetery
Two important and often photographed sculptures by Lorado Taft are also found at Graceland — Eternal Silence (or the Statue of Death) and The Crusader. Additionally, a granite baseball two-feet in diameter, with stitching, marks the grave of William Hulbert, founder of Major League Baseball's National League.
One of Chicago's most famous businessmen, hotelier Potter Palmer, is buried at Graceland with his wife, Bertha, underneath a majestic columned monument. Nothing less would have been fitting for the Palmers. Mr. Palmer was the founder of one of the grandest hotels in the city, the Palmer House; Mrs. Potter Palmer was a revered socialite who devoted herself to many philanthropic causes throughout her life.
Not far away is the majestic monument and tomb of George Pullman, best known for his Pullman Palace railroad cars and the unique, self-contained industrial town he established on the city's South Side.
The list of famous names goes on. Also buried here are newspapermen Joseph Medill (editor of the Chicago Tribune) and Victor Lawson (founder of the Chicago Daily News); meatpacker and industrialist Philip Armour; inventor of the reaper Cyrus McCormick; retailer Marshall Field; Chicago's first detective and founder of the Secret Service, Allan Pinkerton; one of Chicago's first settlers, John Kinzie, Jack Johnson, the first African American world heavyweight boxing champion, father and son mayors of Chicago, Carter Harrison, Sr. and Carter Harrison Jr., "Mr. Cub" Ernie Banks and world renowned architect Luwig Mies van der Rohe.
Other people buried here are known by the streets that have since been named after them, such as Charles H. Wacker, John Peter Altgeld and Alexander N. Fullerton.
The most beautiful grave site is located in the middle of the cemetery on a small island overlooking a tranquil pond. A simple plaque on a rock commemorates the final resting spot of Daniel H. Burnham and his wife.
It is appropriate that Mr. Burnham occupies such a beautiful location for it was his Plan for the City of Chicago that laid out the future growth and objectives for Chicago, always emphasizing its beauty. Completed in 1909, Burnham's Plan is still the benchmark against which new plans for the city are measured.
Writing about the cemetery, Crain's Chicago Business editor Dan Miller pinpoints the unique draw of Graceland: "It offers something every generation of American seeks — tangible evidence of an honorable history, and veneration of our ancestors."
It also offers visitors a unique sense of Chicago, people who were primarily responsible for building the City into the great metropolis it is today.
Perhaps it is fitting, then, that the only sound that penetrates the eternal silence of Graceland is another iconic piece of Chicago's history — a rickety, rumbling, above-ground railroad that clatters its way down the cemetery's eastern border. Like rolling thunder, it arrives with a crash…and then slowly rumbles into the distance.
You can visit Graceland Cemetery by going on the Red Line. L Stop Tours also hosts a Chicago city tour via the Red Line that shows visitors the city's Chinatown, Stretterville, and so much more!
Holder of two journalism degrees, including a masters from Northwestern University, Tom Schaffner is a native of the Chicago area and has spent nearly 50 years as a writer, editor, publisher and professional communications consultant. He was also the founder, editor, and publisher of the Chicago File, as well as the co-owner of L Stop Tours.
– By Tom Schaffner
The Railway Capital of the US
Because of its strategic location in the center of the country — halfway between the Atlantic and Pacific Oceans and smack in the middle of America's manufacturing and agricultural belts — Chicago has always been the undisputed railway capital of the United States.  Even today, more trains arrive in or depart from Chicago on a daily basis than anywhere else in the country (and likely the world).
Throughout history, Chicago and railroads have had a symbiotic relationship — both have helped each other grow into strong and viable entities.  Chicago contributed to the success of railroads by supporting their growth and development with flexibility and by providing a proactive regulatory environment; the railroads helped Chicago grow by moving billions of tons freight into and out of the city on a regular basis and by making the city a key hub in their network of passenger trains.
Additionally, Chicago made trains the centerpiece of its own public transportation system.  Beginning with the city's first elevated railway in 1892 — the "Alley L" (the southern portion of today's Green Line) — the city has made trains the primary conveyance for moving from neighborhood to neighborhood or one side of town to the other.
Top Train Museums
As the railway capital of the U.S., Chicago is fortunate to be located within a few hours' drive of several of the nation's best train museums:
Fox River Trolley Museum

(South Elgin, IL) — The museum maintains a collection of 30 antique electric trolleys, railroad cars and locomotives and is focused on railways and transit lines of the Chicago area.  One of the museum's prized pieces of equipment is the wooden interurban car #20 from the Chicago Aurora and Elgin Railroad. Constructed in 1902, car #20 is the oldest interurban car operating in the United States.
Illinois Railway Museum

(Union, Il) — Located about 60 miles northwest of the city, the Illinois Railway Museum is the largest railway museum in the world.  Founded in 1953, the museum has in its collection 450 pieces of historic equipment, including steam engines, diesels, streetcars, interurbans and passenger and freight cars, many of which can be ridden on tracks that run throughout the site.  For fans of Chicago's elevated transit system, a visit to Barn 8 is a must — it contains every type of L car that has run on the system since 1898.
Museum of Science and Industry

(Chicago, IL) —  Though technically not a railway museum, the Museum of Science and Industry contains several historic locomotives, the opportunity to tour the Burlington Route's 1934 Pioneer Zephyr, which was America's first diesel-electric stainless steel Streamliner, and the world's largest model train exhibit, "The Great Train Story," which presents 2,200 miles of scenery and stories as a model train emulates the trip from Chicago to Seattle along 1,400 feet of track.
A. Philip Randolph Pullman Porter Museum

(Chicago, IL) — There are no locomotives or passenger cars to examine or explore but that doesn't make this museum any less important in the history of train travel in the U.S.  This museum, housed in Pullman National Historic Landmark District, contains a collection of artifacts and documents related to the Brotherhood of Sleeping Car Porters and celebrates the organization's role in the U.S. labor movement.  The porters, most of which were African American, were employed by the manufacturer of the cars, George Pullman, and his Chicago-based Pullman Palace Car Company.
Mid-Continent Railway Museum

(North Freedom, WI) — Located about a four-hour drive northwest of Chicago, the Mid-Continent Railway Museum has 13 steam locomotives and 7 diesel engines, including #1325 from the Chicago and North Western Railroad.  The museum also has the largest collection of wooden passenger cars in the United States, has six of only seven surviving wooden boxcars built by Mather Stock Car Company and has in its collection the nation's last surviving fish car.
Hoosier Valley Railroad Museum

(North Judson, IN) — Halfway between Chicago and Indianapolis is the Hoosier Valley Railroad Museum, which is located near the junction of four historic railroad lines — the Chesapeake and Ohio, the Pennsylvania, the New York Central and the Erie.  Founded in 1988, the museum has more than 30 pieces of rolling stock in its collection, including freight cars, cabooses, diesel switch engines and an Orton locomotive crane. The museum itself is housed in a station formerly owned by the Erie Railroad.
National New York Central Railroad Museum

(Elkhart, IN) —

The National New York Central Museum is dedicated to the preservation of the New York Central and includes several outdoor equipment displays, indoor model railroads

,

artifacts

from the railroad and other exhibits pertaining to the history of railroading.  The museum consists of a modified New York Central

Twentieth Century Limited

train and a freight house built by the Lake Shore & Michigan Southern Railway in 1907.
New Buffalo Railroad Museum

(New Buffalo, MI) — Located on the grounds of what was once the largest train yard in Southwest Michigan, the New Buffalo Railroad Museum is home to exhibits and collections recalling New Buffalo's proud heritage as a railroad hub for both the Pere Marquette and Chesapeake & Ohio. The rail line behind the Museum still carries CSX freight trains through the stanchions of one of the original coal towers.  Visitors can stroll through a box car and ap Pullman Sleeper Car for military troops. 
Monticello Railway Museum

(Monticello, IL) — About 18 miles west of Champaign, the Monticello Railway Museum is home to over 100 pieces of railroad equipment, including several restored diesel locomotives and cars.  Founded in 1966, the organization's original goal was to encourage the Chicago Burling and Quincy Railroad to continue operating steam excursions for rail enthusiasts. When that effort failed, curators of the organization decided to operate their own steam excursions and, shortly, thereafter, a museum was born.
If you're interested in visiting other museums in the city, many of our Chicago tours visit museums that cover all sorts of topics — from Chinese history to American economics. Learn more about L Stop Tours today!
Holder of two journalism degrees, including a masters from Northwestern University, Tom Schaffner is a native of the Chicago area and has spent nearly 50 years as a writer, editor, publisher and professional communications consultant. He was also the founder, editor, and publisher of the Chicago File, as well as the co-owner of L Stop Tours.
– By Tom Schaffner
The Warmest Place in Chicago
Where's the warmest, sunniest place in Chicago during the winter months?  The Garfield Park Conservatory, of course.
Located about four miles directly west of the Loop — and only a few short steps from the CTA Green Line L Stop (Lake St. and Central Park Ave.) — the verdant, lush 4.5-acre Garfield Park Conservatory is a tropical resort that you can escape to whenever the winter weather in Chicago turns nasty.  With more than 2,100 plant species growing in 8 indoor spaces, the Garfield Park Conservatory is one of the largest greenhouse conservatories in the United States. Because of the variety of its plant collection as well as the unique design of the building, the Conservatory is often referred to as "landscape art under glass."
A Little History
Constructed between 1906 and 1907, the Conservatory was conceived and designed by Chicago's West Park Commission's general superintendent and chief landscape architect, Jens Jensen. Hoping to create the "largest publicly owned conservatory under one roof in the world," Jensen achieved his dream by consolidating smaller greenhouses in nearby Douglas and Humboldt parks into a new facility at Garfield Park.  Many of the plantings that survive today came from these smaller greenhouses. Jensen firmly believed that "the country must come to the city" and wanted the Conservatory to reflect the beauty that nature had to offer.
Current Conservatory
Today the Conservatory still follows the basic tenants of Jensen. The huge Palm Room contains over seven dozen varieties of palm trees, of which only 2,700 varieties are known to exist today; the Fern Room provides visitors with a glimpse of what Illinois looked like millions of years ago; the Desert Room holds one of the region's most varied collections of cacti and succulents; and the Aroid Room contains many popular indoor houseplants.  The Conservatory also has a room that explains the process of photosynthesis, an indoor children's garden, a show house that often hosts special shows and exhibits and 12 acres of beautiful outdoor gardens.
The Conservatory also hosts a number of special exhibits, concerts, classes and special events, including a Winter Flower show, a composting demo, yoga classes, botanical painting classes for seniors, a community holiday concert, beekeeping classes, and much more.
See the Conservatory on an L Stop Tour!
To help battle the blues this winter, L Stop Tours is launching a new neighborhood tour of Chicago that includes the Garfield Park Conservatory as its centerpiece.  This special winter-only tour departs from the Loop every Friday and Saturday between Nov. 18, 2019 and March 28, 2020 at 10:30 a.m. and utilizes the CTA's Green Line to travel to and from the Conservatory with a few points of interest in between.  Approximately 90 percent of this tour takes place inside, making it the perfect antidote to our often nasty winter weather. For more information, visit the Green Line West Tour page.
Holder of two journalism degrees, including a masters from Northwestern University, Tom Schaffner is a native of the Chicago area and has spent nearly 50 years as a writer, editor, publisher and professional communications consultant. He was also the founder, editor, and publisher of the Chicago File, as well as the co-owner of L Stop Tours.
– By Tom Schaffner
Día de los Muertos
Día de los Muertos, or Day of the Dead, is a holiday that's just around the corner and the Chicago neighborhood of Pilsen is one of the best spots in the city to commemorate it.  Typically, Día de los Muertos is celebrated on Nov. 1-2 to coincide with All Saints Day and All Souls Day. Historically, it is a time when Mexicans celebrate the lives of their ancestors.  
What is it?
By no means a somber occasion, Día de los Muertos is a celebration of death and life with many bright and colorful traditions.  Ofrendas, or offerings, are small, altar-like displays consisting of flowers, candles, photographs, clothing mementos and certain foods or drinks that are designed to welcome the spirits of the dead back to earth.  Calaveras, or sugar skulls, are decorated replicas of human skulls that are made out of sugar or clay. They are used to remind the living that life is short and that it's OK to poke fun at death. Finally, Pan de Muerto is sweetened, softened bread shaped like a bun that is decorated with bone-like designs and eaten as a tribute to the dead at gravesites or ofrendas.
What's going on in Pilsen?
 In Pilsen, a predominantly Mexican neighborhood just southwest of Chicago's Loop, ofrendas, calaveras and Pan de Muerto are a major part of celebrations throughout the area — in homes, churches and at numerous special events.
The Pilsen-based National Museum of Mexican Art (1852 W. 19th St.) is hosting a huge community event that is also being held to support ongoing programming at the museum.  The "Día de los Muertos: Love Never Dies Ball," Saturday, Nov. 2 from 6 p.m. to 10 p.m., is a special celebration that honors life and spirits of los muertos and will feature live music, culinary treats, beverages and a chance to win prizes.
In addition, the Museum also is celebrating with an event called "Día de los Muertos Xicágo" in Harrison Park (the park in which the museum is located) on Sunday, October 27th from 3 p.m. to 8 p.m. It will feature ofrendas, live musical performances, face painting, art activities and, of course, Pan de Muerto.  It is a family-oriented event and admission is free.
More to Check Out!
Furthermore, athletically-inclined individuals might consider signing up to run in the Carrera de los Muertos/Race of the Dead 5k. This race snakes through the streets of Pilsen and takes runners past many of the neighborhood's fascinating murals.  Runners are cheered on with live mariachis, traditional folkloric dance groups and spectators who are decorated and costumed in Día de los Muertos attire (as are many runners). The race begins at 8 a.m. on Saturday, Nov. 2 at Benito Juarez Community Academy, 1450-1510 W. Cermak Rd.
Have a sweet tooth?  Dulceria Lupitas, (1730 W. 18th St)., is a throw-back candy shop with a wide range of delicious and inexpensive candy. Like spice? Many of their candies are dusted with chile powder for an extra burst of flavor.  In October and November, the shop offers sugar skulls (calaveras) for those who wish to celebrate Día de los Muertos.
Holder of two journalism degrees, including a masters from Northwestern University, Tom Schaffner is a native of the Chicago area and has spent nearly 50 years as a writer, editor, publisher and professional communications consultant. He was also the founder, editor, and publisher of the Chicago File, as well as the co-owner of L Stop Tours.
– By Tom Schaffner
If you enjoy reading about the best parks in Chicago, then consider signing up for our blog newsletter!
---
With more than 600 parks comprising 8,800 acres of green space, the Chicago Park District is the largest municipal park manager in the nation.  It also is responsible for 28 indoor pools, 50 outdoor pools, and 26 miles of lakefront including 23 swimming beaches and one inland beach.
The city's park system is also convenient.  A recent study found that 98 percent of all city residents live within a 10-minute walk — or roughly half a mile — of a public park.  In other words, serenity is not very far away.
Since we offer Chicago walking tours that utilize the L to visit neighborhoods throughout the city and suburbs, we've compiled a list of our favorite neighborhood parks that are also easily accessible via the L.
Best Parks in Chicago With Easy Access to the L
Ping Tom Memorial Park (Via Green Line)
Garfield Park (via Red Line) 
Wicker Park (Via Blue Line)
Douglas Park (Via Pink Line)
Grant Park (Via Any Line Except Yellow)
Gillson Park (Via Purple Line)
Humboldt Park (Via Blue Line)
Oz Park (Via Brown Line)
1. Ping Tom Memorial Park (Via Red Line)
This beautiful 17.24-acre park is located on the south bank of the Chicago River, a few blocks from the Cermak-Chinatown stop on the CTA's Red Line and, of course, the Chinatown neighborhood (which you see more of on our Chicago Chinatown Food Tour.). Named for Ping Tom, a prominent Chinatown businessman and civic leader, the park was created in October 1999 and features a pagoda-style pavilion, bamboo gardens and a playground.  In warmer weather, the Chicago Water Taxi makes scheduled stops at Ping Tom Park from various downtown locations.
2. Garfield Park (Via Green Line)

Only steps from the Green Line, Garfield Park is a 184-acre green space that was designed by William LeBaron Jenney, architect of the world's first skyscraper (Chicago's Home Insurance Building). It is the oldest of the city's three original West Side Parks, which include Humboldt Park and Douglas Park. The centerpiece of the park is the 4.5-acre Garfield Park Conservatory, one of the largest greenhouse conservatories in the United States.  Open year-round, the conservatory is particularly enticing in the middle of winter when it offers visitors an escape from the white snow into a world of green. You can experience the Garfield Park Conservatory during our Fulton Market tour!
3. Wicker Park (Via Blue Line)
Though only four acres, Wicker Park is a much-beloved and widely-used community park in the heart of one of Chicago's toniest neighborhoods. Located only steps from the Blue Line L stop at Damen, Wicker Park is dog-friendly and includes baseball diamonds, a walking path, a spray pool and a water playground for children and a statue of Charles Wicker, who, with his brother Joel, donated the park to the community in hopes that it would one day spur development within the community.  It did, perhaps well beyond even the wildest dreams of the Wicker brothers.
4. Douglas Park (Via Pink Line)
A short walk from the Pink Line station at California is Douglas Park, named in honor of Stephen A. Douglas, a U.S. Senator from Illinois who lost the 1860 presidential race to Abraham Lincoln, also from Illinois. Spanning 173 acres and straddling a few neighborhoods on the city's West Side (Pilsen and North Lawndale), Douglas Park was built for recreation. It currently houses a miniature golf course, five playgrounds, an outdoor swimming pool, soccer fields, basketball courts and an oval running track.  It also features a beautiful lagoon, a wide variety of trees, and an old stone bridge. You can see more of what the Pink Line offers on our Pilsen Chicago Neighborhood tour!
5. Grant Park (Via Any Line Except Yellow)
Also proudly referred to as "Chicago's Front Yard," Grant Park is one of the city's largest green spaces, stretching from Randolph St. on the north to the Museum Campus on the south, Michigan Ave. on the west and Lake Michigan on the east.  In addition to baseball diamonds, soccer fields, tennis courts and breathtaking gardens, Grant Park also hosts innumerable food and music festivals and other special events throughout the year. Also part of the greater Grant Park area are Millennium Park, Maggie Daley Park, Buckingham Fountain, The Art Institute, The Field Museum, Shedd Aquarium, Adler Planetarium and two leisure boat harbors.  The 313-acre park, one of the largest in the city, can be accessed by any L (except the Yellow Line) at stations throughout the Loop.
6. Gillson Park (Via Purple Line)
Located in the nearby suburb of Wilmette, Gillson Park is a half-mile walk from the Linden Avenue stop on the CTA's Purple Line. This beautiful 60-acre park is located on the shore of Lake Michigan and features a public beach, picnic facilities, sailboat and kayak rentals, bicycling, soccer tennis and a wide variety of other recreational activities.  Named for the first president of the Wilmette Park District's Board of Commissioners, Louis K. Gillson, the park opened to the public in 1910.
7. Humboldt Park (Via Blue Line)
Humboldt Park is a 207-acre park on the West Side of Chicago that is located in a community of the same name.  The park was named for Alexander von Humboldt, a well-known geographer and naturalist in the mid-1800s. The park features three major historical public buildings, including the Boat House (now a café overlooking the lagoon); the Field House, which includes a fitness center, two gymnasiums, meeting rooms and an inland beach; and the historic Humboldt Park Stables, which is in the process of being converted to the National Museum of Puerto Rican Arts and Culture.  Humboldt Park is a 20-minute walk from the Blue Line Damen Ave. stop.
8. Oz Park (Via Brown Line)
Located in the Lincoln Park neighborhood, Oz Park takes its name from a novel written by Lyman Frank Baum, a former resident of the neighborhood who wrote "The Wonderful Wizard of Oz."  The 13-acre park features sculptures of characters from the novel, The Tin Man, the Cowardly Lion, the Scarecrow and Dorothy and Toto. "The Emerald Garden," located at the northeast corner of the park, has a path of flowers that visitors can walk through; nearby is "Dorothy's Play Lot," which includes swings and climbing equipment for children.  Oz Park is located a few blocks from the Brown Line Armitage stop. You can see more of what the Brown Line has to offer on our Historic Pub Tour
Holder of two journalism degrees, including a masters from Northwestern University, Tom Schaffner is a native of the Chicago area and has spent nearly 50 years as a writer, editor, publisher and professional communications consultant. He was also the founder, editor, and publisher of the Chicago File, as well as the co-owner of L Stop Tours.