February 17, 2022
For more stories about Chicago's fascinating history, take a look at what Chicago city tours we are currently running! L Stop Tours runs unique tours all across Chicago's neighborhoods that are guided by lifelong Chicago residents. Discover the amazing architecture, tasty food, and interesting tidbits about the city in one of our Chicago walking tours!
As a civilization, the Roman Empire lasted for 1,000 years.  In 2022, Chicago will celebrate the 185th anniversary of its founding.
Like Rome, Chicago has created a number of important structures and monuments that not only have enjoyed tremendous success over the years but have survived and withstood the test of time.  They are stable and popular structures and institutions…none are likely to disappear any time soon.  Wrigley Field, the L, the Art Institute, O'Hare Field and McCormick Place are a few examples that come to mind.
On the other hand, Chicago also is home to a great number of municipal "dinosaurs" — well-known buildings, institutions and other local treasures that, thanks to a rapidly changing world, have suddenly become outdated, irrelevant and, possibly, unneeded in the future.  Like the dinosaurs of era past, these local treasures are endangered species and may soon become extinct.
L Stop Tours has put together a list of Chicago "dinosaurs" for your consideration:
U.S. Post Office Loop Station
211 S. Clark
In a day and age when wireless communication is omnipresent, do we really need an over-large U.S. Postal Service building to handle an ever-dwindling amount of U.S. mail?  The Old Chicago Main Post Office, a 2.5 million-foot behemoth on West Harrison Street, built in 1921 and decommissioned in the 1980s, was recently remodeled into new executive offices for such companies as Walgreens, Ferrara Candy Co., Pepsico, Cisco and Uber.  A few blocks to the east, the Loop Station Post Office, a beautiful structure designed by famed architect Mies van der Rohe and built in 1974, seems destined for a similar fate.  How long will this oversized postal snail mail facility occupy valuable Loop real estate that may be better suited for something else?  Stay tuned.
Chicago Board of Trade
141 W. Jackson Blvd.
Established in 1848, the Chicago Board of Trade is one of the world's oldest, largest and most successful futures and options exchanges, dealing in a wide range of futures contracts for livestock, agricultural commodities, world currencies, energy products and much more.  For the first 150 years of its existence, the Board of Trade and its parent company, the Chicago Mercantile Exchange (CME Group), traded futures and options via the "open outcry" system.  This methodology featured traders who stood in amphitheater-style "pits" and yelled their orders to others, thereby creating a "live" market for futures contracts.  This method required the Board to maintain huge trading floors with plenty of space for the pits, traders, runners, brokers, huge electronic "scoreboards" on the walls surrounding the trading floor, and much more.  In 1994, the Board of Trade began to convert its trading platforms from open outcry to electronic trading.  By 2015, the Board of Trade had closed most of its trading pits and ushered in the era of online trading.  With no need for huge trading floors or adjoining office space, the CME Group sold the building to a consortium of real estate companies and leased only a fraction of the building's office space that it needed for operations.  With the pandemic slowing the return of office workers to the Loop, the building is emptier than ever before, an abandoned tower in the midst of Chicago's busy financial district.  It begs the question — what is the future of futures trading at the Board of Trade?
Harold Washington Library Center
400 S. State Street
Chicago needed a new main library and in 1991 it got one, the Harold Washington Library Center, a 10-story 750,000 square foot library facility with beautiful marble walls and floors, wood paneling throughout and a state-of-the-art lighting system.  In less than 10 years, however, the new, massive library already was beginning to look like a dinosaur.  Why go to the library when research could be conducted on a computer at home?  Why go to the bother of checking out a book and returning it at a preordained time when you can purchase it cheaply on a computer or smartphone and read it wherever you go on your favorite reading device?  Chicago has an excellent system of branch libraries serving neighborhoods throughout the city.  Do we still need a huge central library serving a downtown business district that, because of lingering effects from the pandemic, is still bereft of workers, tourists and residents?
Macy's
111 N. State Street
For well over 100 years, Marshall Field and Company and, later, Macy's, operated a 14-story department store that occupies a full city block in the heart of the Loop.  A throwback to the big department stores of the 1930s and 40s that catered to every possible need of urbanites, Macy's State Street Store is no longer the retail powerhouse that it once was.  In fact, the store is shrinking — in 2018 Macy's sold the upper half of the building (floors 8-14) to an asset management company which, in turn, is leasing the space to corporate tenants.  The parent company of Macy's also is downsizing and reducing the company's presence in Chicago.  In 2021, Macy's permanently closed its Water Tower Place store on the Magnificent Mile, a location it had occupied for 45 years.  The last of its kind — a massive, expensive-to-operate, downtown-anchored department store — Macy's State Street store appears to be living on borrowed time.
Soldier Field
part of the Museum Campus
Opened in 1924, Soldier Field has hosted a wide variety of sports teams and events over the years, including the Chicago Bears of the National Football League, the Chicago Fire of Major League Soccer, major college football games, heavyweight boxing matches and a variety of concerts and stage shows.  Soldier Field has a football capacity of 61,500 and is the oldest and smallest stadium in the National Football League.  This small size is one of the reasons its future is tenuous — the Bears recently announced that they might leave Soldier Field for a stadium they would build on a parcel of land that presently houses the former Arlington Park Race Course in Arlington Heights.  Such a departure would leave Soldier Field without its marquee tenant — and its future very much in doubt.
Manually-Operated Elevators
Fine Arts Building, 410 S. Michigan Ave.
The elevator was invented in 1853 by Elisha Graves Otis and introduced at the Crystal Palace Convention in New York City.  For the next 90 years, most elevators in the U.S. had operators who opened the doors, guided the speed of the car between floors, leveled the car at each stop and announced destinations at each floor for riders.  By the mid-1960s, most elevators in the U.S. became automatic, riders pushed buttons to ascend or descend to their destinations, operators were no longer needed.  Today, there are approximately 22,000 elevators in the city of Chicago and only one set of manually-operated elevators — they are located in the 138-year-old Fine Arts Building on South Michigan Ave.  If you miss the human touch that once came with a simple elevator ride, or if you've never ridden a manually-operated elevator, head over to the Fine Arts Building — before something "automatic" takes its place.
South Shore Line
Millennium Station, 151 N. Michigan Ave.
In 1915, interurban railroads were an extremely popular mode of city-to-city transportation with more than 15,000 miles of track connecting urban areas across the country.  Essentially beefed-up streetcars that ran long-haul routes through suburbs and rural areas on their way to other urban areas, interurbans were so popular that they had grown to become the fifth largest industry in the United States.  But interurbans didn't last.  Paved roads and interstate highways made cars and trucks more popular than trains and the interurbans began to fold and go out of business.  By 1930 most of the interurban railroads had vanished; by 1960 only four remained in the entire country.  Today there is only one remaining interurban railroad operating in the United States, the South Shore Line, which has been operating electric trains between downtown Chicago (Millennium Station) and South Bend, Ind. (86 miles) since 1905.  The only Chicago area commuter railroad not a part of Metra (the Chicago area's commuter rail agency), the South Shore Line continues to go it alone and, at least for now, continues to survive as the last of its kind.
Greektown
Halsted and Jackson
There was a time when Chicago had two separate Greektowns, the original in the West Loop (Halsted St. and Jackson Blvd.) which dates to the late 1940s and "New Greektown" on the North Side (Lawrence Ave. and Western Ave.) which was popular from 1975 to 2000.  New Greektown didn't stand the test of time.  Greeks who moved there to start businesses, night clubs and restaurants decided to move to the suburbs when rents in the neighborhood no longer were affordable.  That left the original Greektown as the sole surviving Hellenic community in Chicago.  But Chicago's original Greektown also has steadily shrunk in size over the past two decades.  Explosive growth of Fulton Market and West Randolph Street restaurant and entertainment district has led to urban renewal and gentrification of the entire West Loop.  Huge apartment and condominium towers now stand where Santorini, Rodity's, Parthenon, Pegasus and other stalwart Greek restaurants once plied their trade.  Greek grocery stores and retail businesses have vanished as have many Greek residents, most of whom have long since moved to other neighborhoods in the city and suburbs.  While a speck of the old neighborhood remains — the Greek Islands restaurant still is in business and the National Hellenic Museum continues to celebrate the history and culture of the neighborhood — most of Chicago's original Greek neighborhood has fizzled out faster than the flames on an order of saganaki.  Why is the neighborhood disappearing?  It's Greek to us.
16-inch Softball
Softball was invented in Chicago at the Farragut Boat Club in 1874 when a wadded-up boxing glove was hurled at a "batter" who swung at it with a stick.  The result was a new sport — 16-inch softball, a game played without a fielder's glove.  Over the years, 16-inch softball grew to be the summertime recreational sport of choice for adults throughout the Chicago area.  Every city and suburban park or park district sponsored leagues that had waiting lists of teams waiting to play.  Today, the popularity of 16-inch softball has faded considerably.  Millennials view it as an old man's sport, women prefer 12-inch softball (with gloves) and softball is no longer the only summertime league in town (today there are many other sports and recreational activities that compete with softball).  Yes, you can still watch or play 16-inch softball in Chicagoland, but with each passing year, it is getting more difficult to do so.
Chicago Beaches
Because the water level of Lake Michigan has been increasing for a number of years, Chicago's beaches have been getting noticeably smaller, thanks to erosion and sediment displacement.  In fact, some of Chicago's beaches have disappeared completely.  Juneway and Fargo beaches on the North Side (in Rogers Park) are submerged underwater and a steady drumbeat of crashing waves have collapsed revetment projects that were designed to protect the shoreline.  Other popular beaches — Oak Street, 12th Street, 57th Street, North Avenue — are only a fraction of the size they used to be —thin strips of sand with barely enough space for a row or two of beachgoers.  A crashing meteor may have brought an end to dinosaurs on earth; climate change may be doing the same thing to today's Chicago's beaches.
Non-Multiplex Movie Theaters
There's only a handful of historic, non-multiplex movie theaters remaining in Chicago — Logan Theatre (2646 N. Milwaukee Ave.), Music Box (3733 N. Southport Ave.), Davis Theater (4614 N. Lincoln Ave.) and a few others.  These old-time movie palaces generally have only one or two screens (unlike the multiplexes) and often book old, seldom-screened movies or smaller concerts or live staged events.  With the rise of streaming services and other at-home entertainment options, the lingering effect of the pandemic on social activities (like seeing a movie) and the high cost of maintaining older, historic facilities, the continued survival of these institutions appears as though it will be a limited engagement.
Holder of two journalism degrees, including a masters from Northwestern University, Tom Schaffner is a native of the Chicago area and has spent nearly 50 years as a writer, editor, publisher and professional communications consultant. He was also the founder, editor, and publisher of the Chicago File, a newsletter for former Chicagoans. Tom is also the co-owner of L Stop Tours.
---
POPULAR TRIPS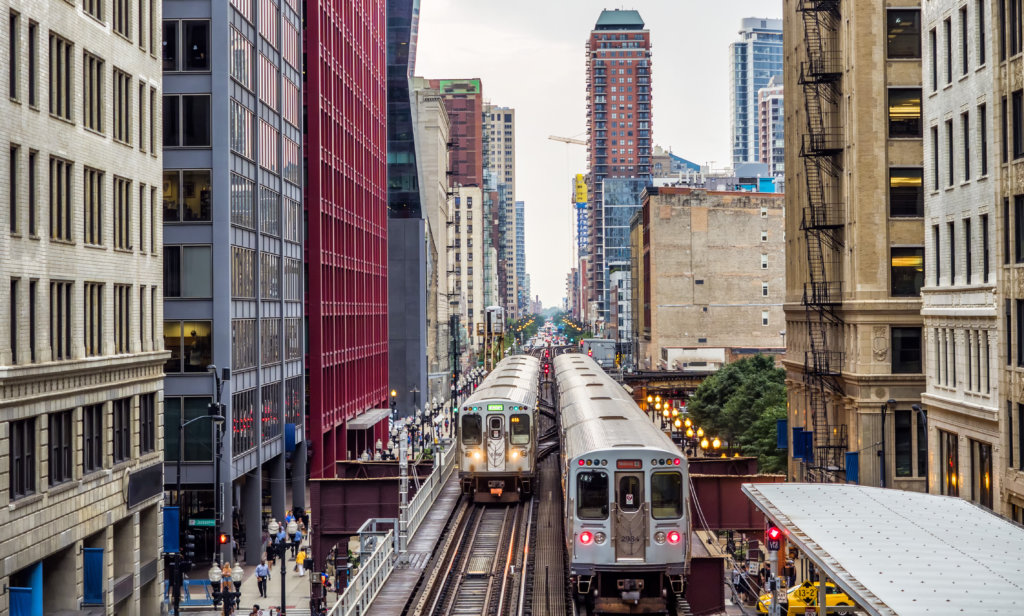 Duration: 3.5 hours
Price: Adult $60
Tour price includes transit fees - food/beverages purchased by guests
Tour begins and ends in the Loop
Walking distance: 1.5 miles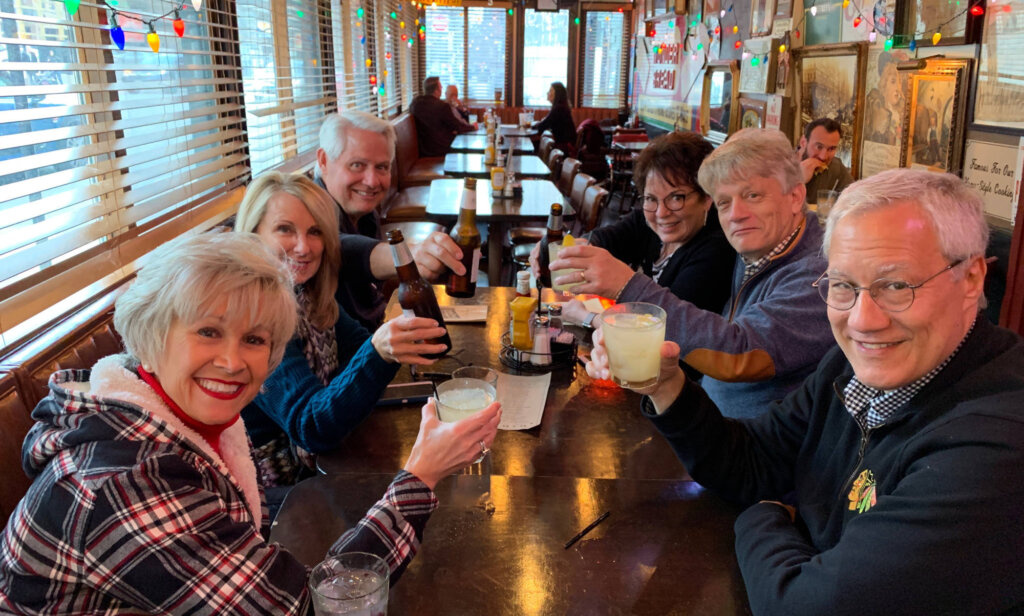 Duration: 3.5 hours
Price: Adult $60
Price includes transit fees – food/beverages purchased by guests
Tour begins and ends in the Loop
Walking distance: 1.1 miles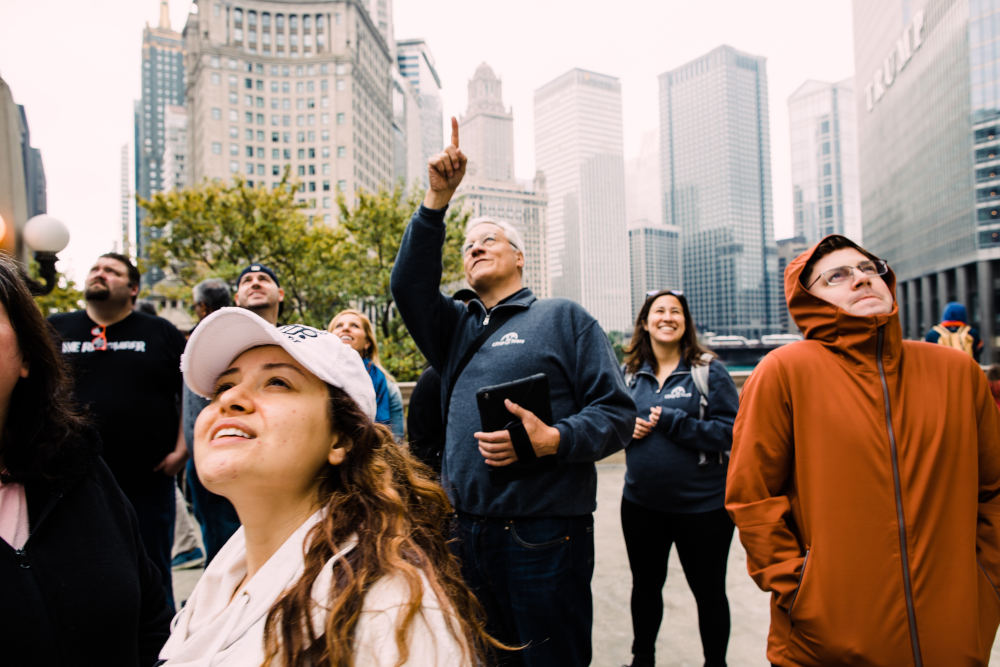 Duration: 2.5 hours
Price: Adult $60
Tour price includes professional tour guide, train ride - food/beverages purchased by guests
Tour begins and ends in the Loop
Walking distance: 1.5 miles
NEWSLETTER
Stay in the LOOP and subscribe to our monthly newsletter today!